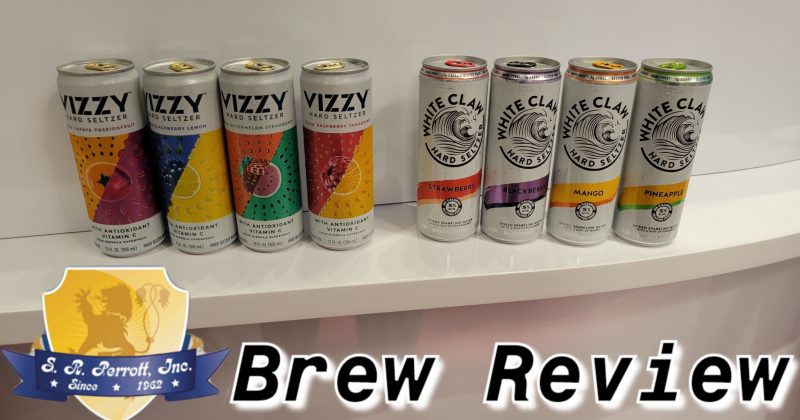 On this weeks installment of Riggs & Guy Brew Review with Josh & Amelia from S.R. Perrott we sample some brand spanking new seltzers!
We start with Vizzy hard seltzer. The first one we tried was their Papaya Passionfruit. Clocking in at 5% ABV these two flavor come together and dance beautifully on your tongue. The great part is it's how the flavors mix but you can tell they are also separate. Next we moved on to Blackberry Lemon. We weren't sure how this one would taste but it's absolutely DELICIOUS! It's the sweet and sour but not aggressive on either end! Then we tried Watermelon Strawberry. Holy cow! You get FULL flavor on this one. Its almost as if they took the juice from both fruits and canned them. This one is a must try! For our final sipper we tried Raspberry Tangerine. Again, Vizzy knocked the flavor out of the park. Both did a dance and deserve a standing ovation.
In the second round we had the big daddy of hard seltzers… White Claw! There was no mixing of flavors on this one. Just in your face deliciousness. We start with Strawberry and boy does it taste like you popped a strawberry in your mouth and mixed it with seltzer. Next we sipped on Blackberry. Same goes with this one. Nothing but flavor and bubbles! Then we moved on to Mango and it definitely tasted like a freshly peeled mango. We don't know how White Claw did it… but they did! We finished everything off with pineapple. Slice it up and jam it in a can? Yep, that's what it tasted like. If you're unsure of sipping on a seltzer… fear not. All the brews we tried today were phenomenal!
If you want to find out where to grab these up, head to www.srperrott.com/beerfinder