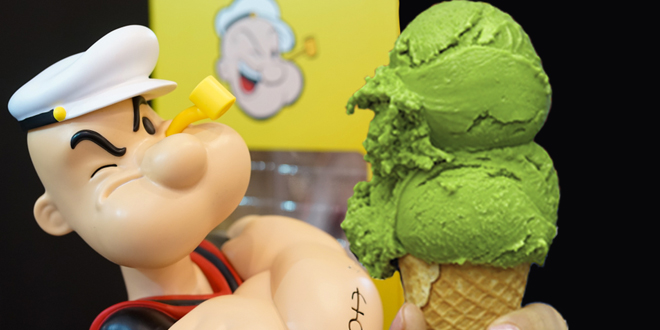 Van Leeuwen Ice Cream in New York has launched a spinach-flavored ice cream this week in honor of Popeye the Sailor's 90th birthday — and members of the United States Navy, Coast Guard and Marine Corps, who are currently celebrating Fleet Week in NYC.
The iron-rich limited-edition flavor aptly dubbed "Popeye's Fleet Treat" contains cashew milk, coconut cream, coconut oil, cocoa butter, cane sugar, extra virgin olive oil, turmeric and sea salt. "We use a vegan base, and that definitely has a more coconut-forward flavor," Ellie Zitsman, Van Leeuwen's head of research and development, told the The New York Post. "The spinach didn't actually impart that much flavor — it was just a really great color."
The new flavor will be available through June 2 at three Van Leeuwen locations in NYC: South Street Seaport, SoHo and Hudson Yards.