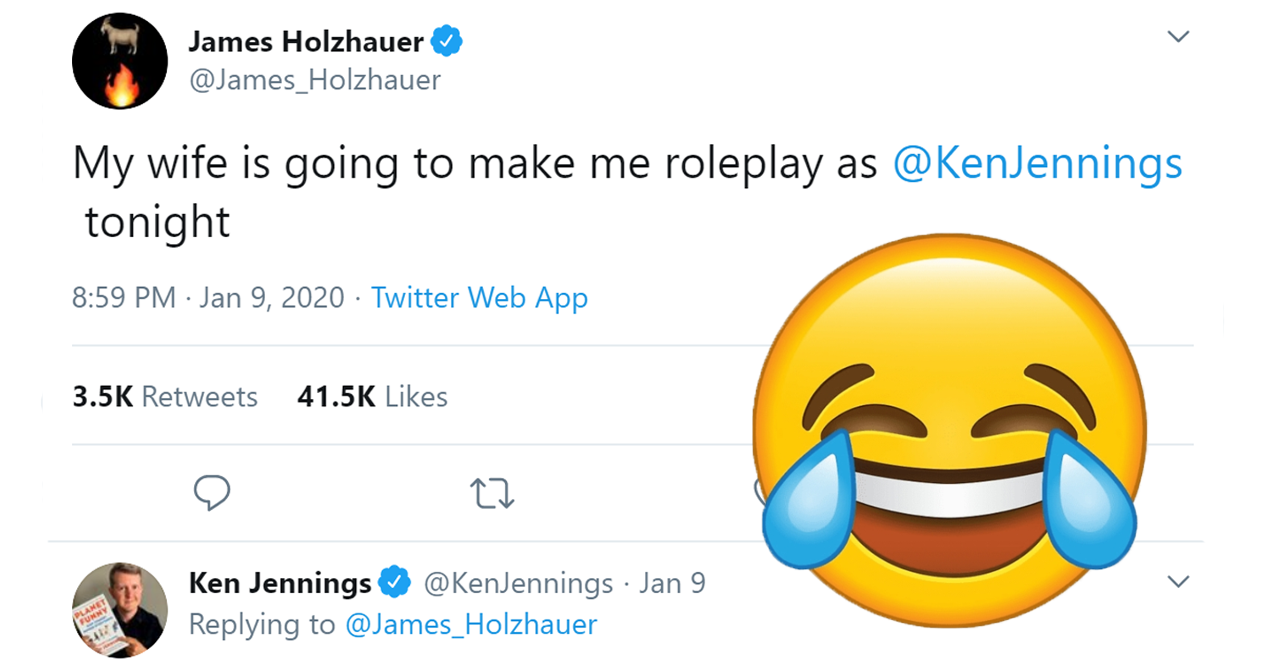 If you aren't following the "Jeopardy! Greatest of All Time" contestants on Twitter, you are missing out.
Ken Jennings and James Holzhauer don't just have winning streaks – they also have trolling on Twitter down to a science. But, "what about Brad Rutter's Twitter fire", you may ask? Well, it seems to be on par with his ability to win at a Daily Double during the "Jeopardy! Greatest of All Time" Tournament.
The guys took to social media last week when GOAT competitor James Holzhauer, 35, conceded that night's loss to Jennings, 45. Holzhauer explained his wife's response to the loss saying, "My wife is going to make me roleplay as @KenJennings tonight."
Jennings snapped back at the professional gambler, "It's all about timing on the button," and fans couldn't be happier.
Here are some fan favorites! Enjoy.
It's all about timing on the button.

— Ken Jennings (@KenJennings) January 10, 2020
Chiefs out here dropping the ball like it's a @bradrutter Daily Double

— James Holzhauer (@James_Holzhauer) January 12, 2020
BREAKING: I have decided to follow @James_Holzhauer on Twitter, since he's been following me on Jeopardy all week.

— Ken Jennings (@KenJennings) January 11, 2020
— James Holzhauer (@James_Holzhauer) January 10, 2020
Photo of two #JeopardyGOATs that outscored @bradrutter in the second half pic.twitter.com/JIrdpsGFkl

— James Holzhauer (@James_Holzhauer) January 9, 2020
Ken and James declined my offer to rip a huge bong load. https://t.co/ZWSf2GWjUe

— Brad Rutter (@bradrutter) January 7, 2020