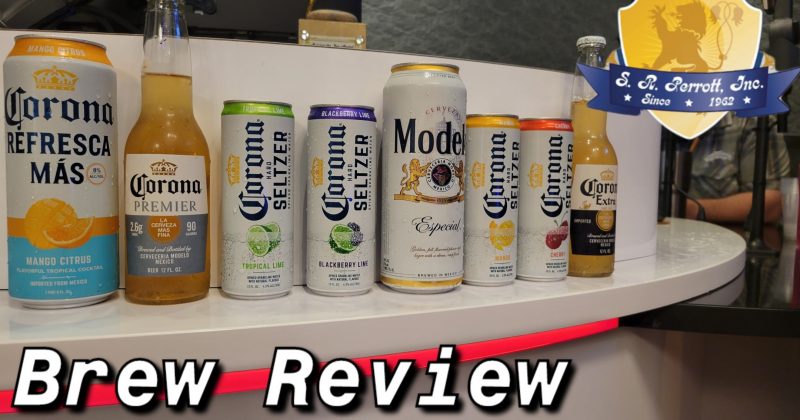 This week on the Riggs & Guy Brew Review with Josh & Amelia from S.R. Perrott brings us even MORE flavors of Cinco De Mayo!
We start of with a powerhouse of a beverage. Clocking in at 8% ABV we sipped on Corona Refresca Mas (Mango Citrus). It's full of mango flavor and is extremely refreshing. Be careful. This one packs a punch! Next we sampled Corona Premier. Sitting at just 90 calories and clocking in at a nice 4% ABV, this beer is nice and light with the flavor you'd expect from corona. A "better for you" beer , if you will. Next we popped the top of Corona Hard Seltzer "Tropical Lime". Nice and crisp lime flavor and not too heavy on the "seltzer" taste. This on clocked in at 4.5% ABV. We finished off the first segment with Corona Hard Seltzer "Blackberry Lime". Also sitting at 4.5% it had a good Blackberry nose with a slight lime finish. Quite tasty!
Now we cracked open a nice big 24 oz Modelo Especial. A traditional Mexican style beer that didn't have a slight sweet taste that you may get from other traditional Mexican brews. Modelo Especial sit's at 4.4%. Next we took on Corona Hard Seltzer "Mango". As soon as you pop the top you get a nice scent of fresh Mango and the taste is right there throughout the whole drink! Then we moved on to their "Cherry" Hard Seltzer. It lives up to it's name and had a nice flavor that makes you want o have another sip! Cherry clocks in at 4.5% ABV. Finally we got to Corona's flagship beer… "Corona Extra" at 4.6% ABV this beer really needs no introduction. It's the delicious flavor that Corona is known for. Pass us the limes!