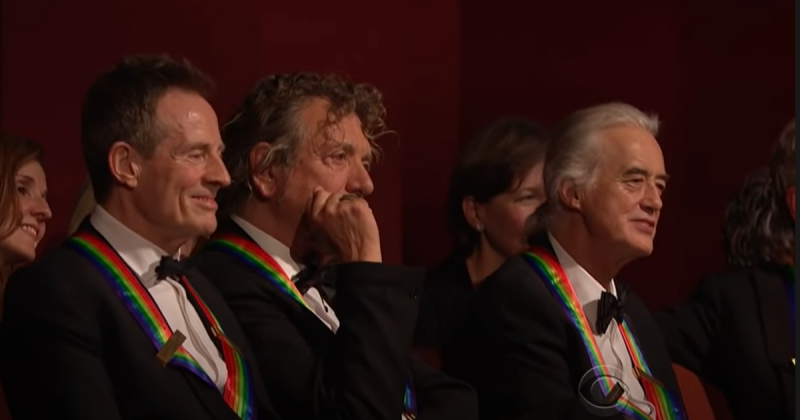 On December 26th, 2012, the Kennedy Center Honors aired on national television for the first time on CBS. The honor is given to those in the performing arts for their lifetime of contributions to American culture and in 2012 the surviving members of Led Zeppelin (John Paul Jones, Jimmy Page and Robert Plant) were among those honored.
It was an all-star line up that night. The the Foo Fighters performed "Rock and Roll," Lenny Kravitz performed "Whole Lotta Love," and Kid Rock performed both "Babe I'm Gonna Leave You" and "Ramble On".
Ann Wilson and Nancy Wilson of Heart performed Led Zeppelin's "Stairway to Heaven" with Jason Bonham on drums. As the song progressed, back-up singers, a string section, and the Joyce Garrett Youth Choir came on stage to help perform "Stairway to Heaven". The choir members and Jason Bonham were wearing bowler hats, which was a tribute to the band's late drummer John Bonham. Throughout the performance lead vocalist Robert Plant was noticeably moved, and towards the end of the song he had tears in his eyes.
Check out Heart w/ Jason Bonham perform Stairway to Heaven by Led Zeppelin LIVE at the Kennedy Center Honors on YouTube.