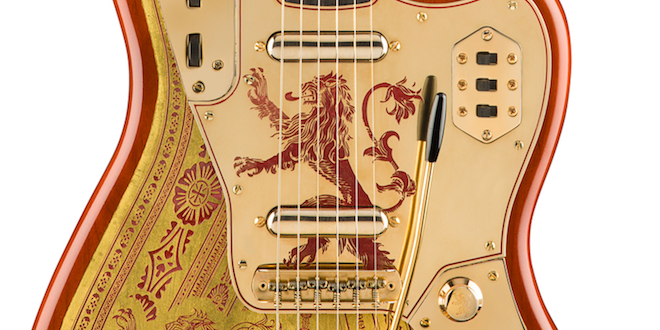 There is a Great War looming and allegiances to House Stark, Lannister, and Targaryen are more important than ever…  
If you are a diehard Game of Thrones fan with a nice chunk of expendable income, have I got the ultimate GOT tribute for you, Fender is now offering handcrafted guitars representing each House.
Fender's Game of Thrones Sigil Collection draws "inspiration from each house's family sigil, costume designs, armor and weaponry, as well as each of their locations in Westeros, sparing no details," according to a press release. These beautiful pieces of art have "ornate and unique features such as dragon scale carvings, custom engraved inlays, hand carved headstocks and gold-plated pickguards."
Take your pick from the GOT Sigil Collection's stratocasters (House Targaryen), telecasters (House Stark), and jaguars (House Lannister), built to order and handcrafted by Principal Master Builder Ron Thorn. At least 100 hours is dedicated to each individual instrument's creation and start at $25K, with some going beyond $35K.
Check them out below.
Watch as Principal Master Builder Ron Thorn and Game of Thrones creator and show runner D.B. Weiss talk through the Fender Custom Shop Game of Thrones Sigil Collection. Featuring a Game of ThronesTM House Stark, Telecaster ® a Games of ThronesTM House Lannister, Jaguar ® and a Game of ThronesTM House Targaryen, Stratocaster ®. This limited-edition series is hand-built to order in the Fender Custom Shop.
[h/t fender]