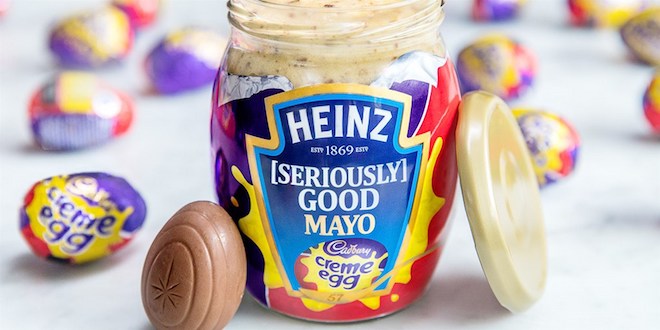 As if blending Peeps into to coffee creamer wasn't bad enough, now Cadbury Eggs have collaborated with Heinz to turn their candy into mayonnaise, and people are using it to make a shot.
Normally you would have me at "shots" but I just can't handle the ingredients.
People are using the new Heinz and Cadbury Creme Egg monster condiment called [Seriously] Good Mayo, to make the already disgusting "Smoker's Cough" shot, even more disgusting. If you haven't been introduced to this bane of society, a "Smoker's Cough" shot adds a spoonful of mayo to a shot of Jaegermiester and this new abomination is called "Easter Morning Smoker's Cough."
EASTER MORNING SMOKER'S COUGH
1 oz. (30ml) Jagermeister
1 Large Spoon of Heinz [Seriously] Good Mayo made with Cadbury Creme Eggs
PREPARATION
1. Pour jagermeister into shot glass before dropping Heinz [Seriously] Good Mayo on top.
DRINK RESPONSIBLY!
So there you have it, more proof people will do anything for attention. Here's how the original drink was made, if you need a visual.