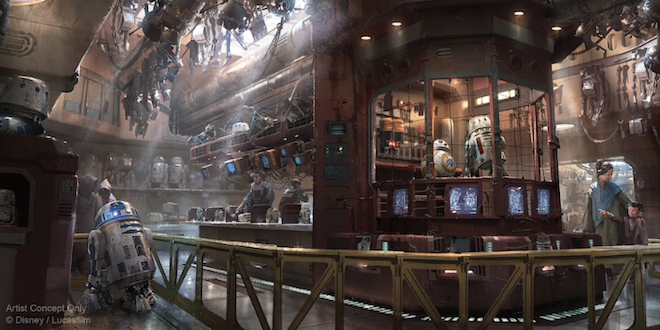 "Star Wars" fans in Florida have something special to look forward to in 2019. Specifically, August 29th, when visitors will finally be able to descend on Disney's Hollywood Studios' Galaxy's Edge.
The media was recently given a sneak peek at the massive expansion and some precious details as to what guests can expect when they show up.
It all starts at the heart of the space port at Black Spire Outpost, which is the kind of the center of this thriving, bustling, remote trading port on the planet Batuu. Fans will be able to fly the Millennium Falcon grab a drink at Olga's Cantina and rub shoulders with Hondo Ohnaka, a pirate first introduced in the animated  "Clone Wars" series."
An identical land is opening in Disneyland on May 31st. Here is some of what Scott Trowbridge, the creative force behind "Galaxy's Edge" in Disneyland, had to say to CNN,
"I think when we say immersive, I think that means it's big. It has scale. It doesn't just reveal itself all to you in one view. You actually have to explore it a little bit. There are things to discover. It's also immersive because it has that attention to detail, and that attention to authenticity. If everything looks like a very shallow facade, and there's no depth behind things, there's no ability for you to believe that there's an activity over there and someone lives in that apartment and that door goes someplace. We want the experience to feel deep. We want the place to feel deep, so that your relationship with it can also have that kind of depth.

The events that happen here in Black Spire Outpost are true in the world of "Star Wars." They're not isolated from the rest of "Star Wars" storytelling. The things that happen here are true throughout this entire kind of canon of "Star Wars" storytelling." We know we have to get it right for the fans. That's been something we felt from day one. People have been dreaming about stepping into this world for 40 years. There's a lot of high expectations about paying off 40 years of dreaming. On day one we knew we had to address that, over-deliver against those expectations. I hope we have."
Get all the details here.