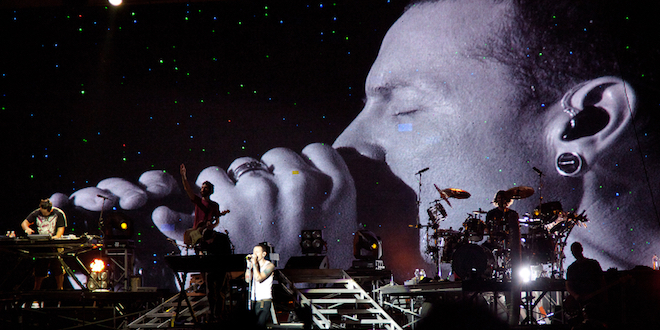 Florida woman, Cristina Settanni did something pretty incredible during her central Florida morning commute after she saw a man sitting on the ledge of a highway overpass.
She says initially she drove past him and noticed that nobody had stopped and then saw him again in her rearview mirror, and decided to stop. She sat on the ledge next to him told him she was scared he'd jump. It was tense. She says, quote, "There was a moment when he moved forward. And I moved towards him, like, 'Nope, you go, I go.'"
Then in an attempt to comfort him, she recited a lyric from the Linkin Park song "One More Light" — 
"Who cares if one more light goes out, in a sky of a million stars? Well, I do."
She says, quote, "I didn't know if it clicked with him, but he just cried." A few other drivers had noticed them, and called 911. The police came, and bodycam footage (below) shows Cristina sitting next to the man on the overpass bridge speaking to him in a calm, composed manner. Still, the man refused to step back, so while Cristina was talking with him, they reached over, and pulled him to safety and he was taken to a mental health facility for treatment.
If you aren't familiar with Linkin Park's "One More Light," it was inspired by a friend of the band who had died of cancer. It was also their last single before their singer Chester Bennington committed suicide in July of 2017, just before the song was released.
Yesterday, Linkin Park tweeted, "Thank you Cristina."
Thank you Cristina https://t.co/GqK9A0d8kL

— LINKIN PARK (@linkinpark) July 30, 2019