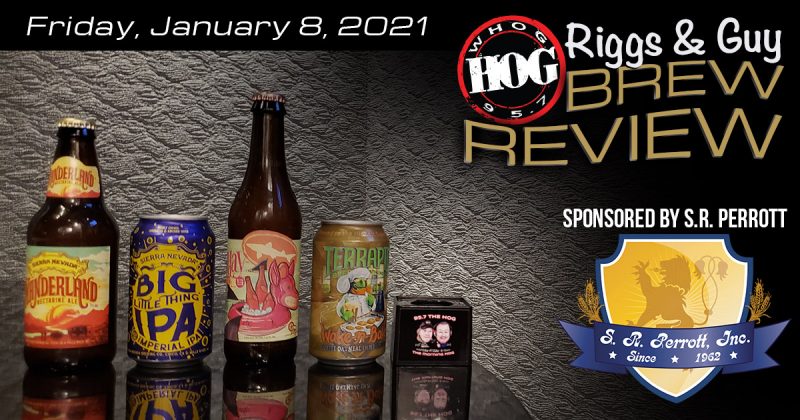 This week On Riggs & Guy Brew Review with Josh & Amelia from S.R Perrott brings us 3 new and one dark brew. We are starting off the New Year right!
Our first brew comes out of Delaware from a brewery we all love on the Brew Review, Dogfish Head. We sampled their "Sunday Feels". It has the flavor profile of a sour mixed with a mimosa on the back end. A real solid brew that clocks in at 6.5% abv. Next we went to California for a minute to sample Sierra Nevada, "Wanderland" which is a nectarine ale. Right on the front you get that beer flavor you expect from Sierra Nevada and then the nectarine creeps up on your taste buds and it's delicious. This brew clocks in at 7.5% abv.
In this segment we stayed with Sierra Nevada and sipped on their "Big Little Thing Imperial IPA". This brew starts of not even tasting like a high octane beer .Clocking in at 9% abv, it has a smooth taste but you still get the hops and a little bit of malt. If you were blindfolded, you wouldn't expect this to be such a high ABV beer. We finished with Terrapin out of Athens GA and tried their "Wake-n-Bake". It's an imperial Oatmeal Coffee Stout that clocks in at 9.4% abv. The first thing you get when you open the can is coffee. Next, the stout flavor hits you slightly aggressively but it's not a punch in the mouth. It's not as thick as you might expect from a stout either. If you're into imperial coffee stouts this is one we recommend chasing down!