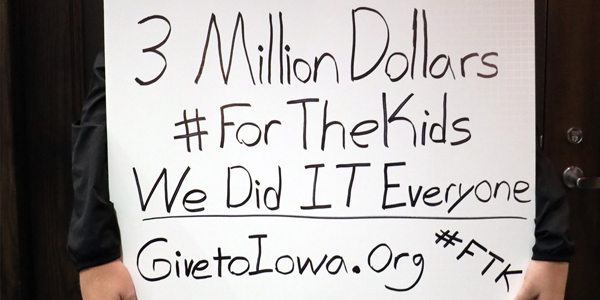 One Iowa football fan who's sign begging for beer money made it onto national has ended his viral fundraising drive — after raising almost $3 million for a children's hospital. Carson King, 24, tweeted late Tuesday, "I'm honestly at a loss for words," and then closed his Venmo account after raising $2,959,330.
I'm honestly at a loss for words. Almost 3 Million Dollars for @UIchildrens. I have suspended my Venmo account, but you can still donate at https://t.co/Q0IqlvYLk8. Thank you everyone. And to the kids and their families, keep on fighting! pic.twitter.com/ob0l3r2xed

— Carson King (@CarsonKing2) October 1, 2019
In case you missed it, King went viral in September after holding up a sign in front of ESPN's camera saying, "Busch Light Supply Needs Replenished" with his Venmo account info. When he quickly raised $1,600 he announced any donations would go to the University of Iowa Stead Family Children's Hospital, with Venmo and Busch matching donated proceeds.
According to the New York Post, he's been honored with an official "Carson King Day" in his home state of Iowa and has had an "Iowa Legend" beer produced in his honor.
Here's the "Carson King Day" official proclamation from @IAGovernor for @CarsonKing2 @WHOhd pic.twitter.com/Zdzo94WRfh

— Dave Price (@idaveprice) September 25, 2019