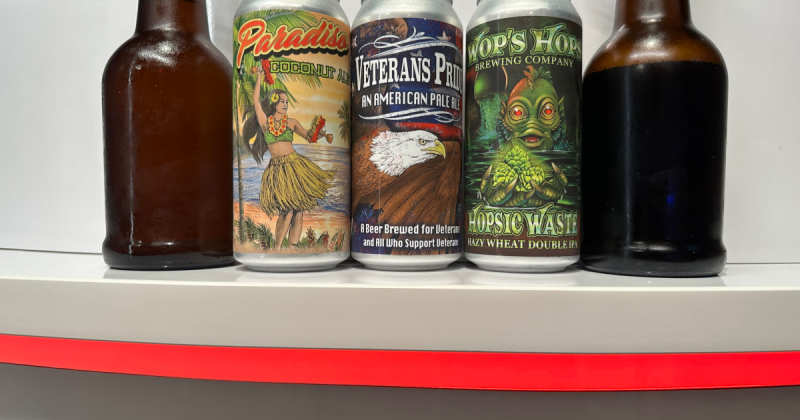 Riggs & Steve from The Morning HOG were joined by Josh from S.R. Perrott; like always. Only this time, Greg from Wop's Hops Brewing Company decided to tag along with The Brew Review. Greg brought with him 5 beers from his brewery: Circus Peanut Hefeweizen, Pre-Prohibition Porter, Paradiso Coconut Blonde Ale, Veterans Pride APA, & Hopsic Waste Hazy Wheat Double IPA.
Greg started home brewing beer in 2008 after a scuba diving vacation to the island nation of Yap in the Federated States of Micronesia. The hotel where he was staying had a very small brewery operated by a retired Austrian Brew Master. Greg struck up a conversation with the Brew Master & after a brief tour of the brewery Greg returned home & ordered his first home brew kit. Greg shared his home brew with family & friends & served his beer at charity events & home brew festivals & won several Gold, Silver & Bronze medals.
In January of 2014, after 21 years in Florida Department of Corrections Probation & Parole service, Greg decided to retire from law enforcement & follow his dream of opening his own brewery.
Greg & Peter, friends of more than 30 years decided to join forces & open Wop's Hops Brewing Company together. Peter, a mechanical engineer & successful building contractor lends his expertise as a contractor & trades craftsman which is vitally important to the success of the business. Their partnership was decided on while lounging in Pete's pool while sipping on Wop's Hops XIII Legion Irish Red Ale. If you wanna taste these delicious brews, you can either go to Wop's Hops Brewery or you could simply click here to find your nearest dealer. Thanks again for joining us during another exciting & tasty Brew Review. Until we see ya'll again in 7 days……Cheers!!