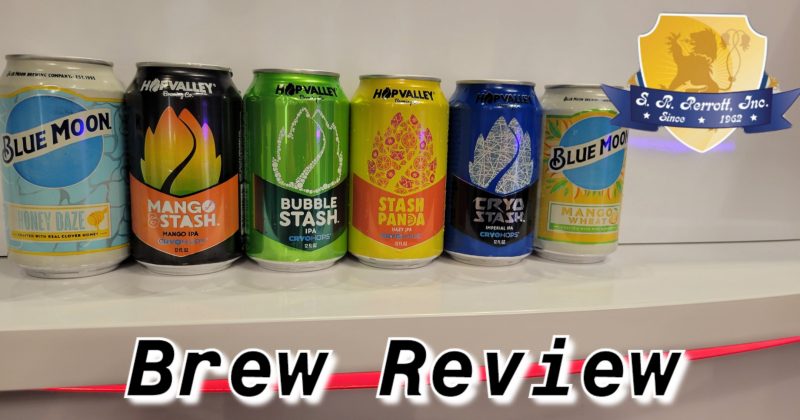 On this week's Brew Review with Josh From S.R. Perrott we had the pleasure of trying brand new beer from a brewery out of Oregon called "Hop Valley". We also sampled some tasty brews from Blue Moon!
We started with Blue Moon and their "Honey Daze". This one clocks in at just 3.9% ABV and it's brewed with real clover honey. It's light and refreshing and has only 114 calories. Next we cracked open a can from Hop Valley called "Mango & Stash IPA". They brew it with a generous amount of mango puree (11 pounds per barrel) which compliments the Cryo Hops. This one clocks in at 6.0 % ABV. We then moved on to their "Bubble stash IPA". With just a little over 6.0% abv this one has the characteristics of blueberry, tangerine, and stone fruit. Pretty tasty IPA!
Now we open their "Stash Panda Hazy IPA". Coming in at 6.5%, they got the name because a Raccoon got into their ingredients. It has a nice tropical feel to it. This may be because they use a nice helping of grapefruit peel in the brewing process which gives it a bright and hazy taste. Next we pop the top of their "Cryostash Imperial IPA". This baby clocks in at 8.7% ABV. It's surprisingly not an imperial IPA that hits your tongue like a ton of bricks. It's refreshingly smooth and has a nice malty finish to it. Don't let it fool you. It will do it's job after a couple! We finished off with Blue Moon's "Mango Wheat". With 5.4% ABV it was a delight to sample. It taste like a regular Blue Moon beer with a nice hint of mango. Definitely a tasty beer!
Don't forget to stop by srperrott.com/beer finder to find exactly where to pick up these fine brews!