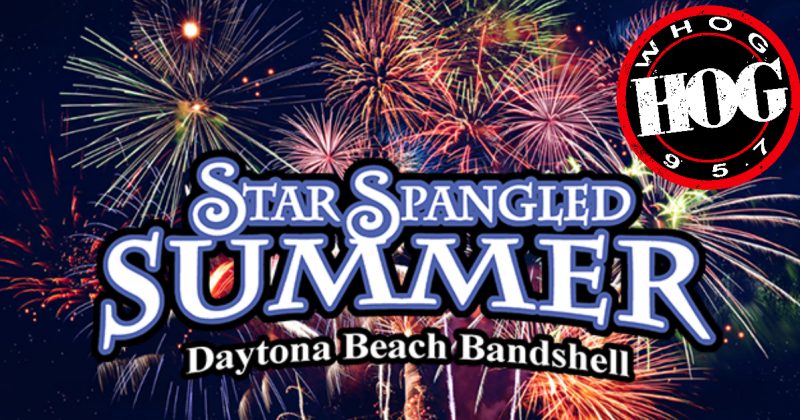 Have you heard? Bandshell is back!
95.7 THE HOG along with the boardwalk merchants and the Friends of the Bandshell are proud to announce the 2023 Star-Spangled Summer Concert Series, They will officially kick off the popular summer concert series by hosting the first free Saturday night concert of the 2023 Free Star Spangled Summer Concert Series with Never Stop Believin – Journey Tribute Saturday July 1st.
Back by popular demand, the night sky will come alive with firework display over the ocean after the shows.
Concerts begin at 7:15 PM and fireworks over the ocean follows the concerts at 9:45 PM.
Reserve and VIP tickets on sale now and keep listening to win your way in with Daytona's Rock Station for 25 years, 95.7 The Hog.
Enter For Your Chance To Win Tickets Here!
Schedule
July, 1
NEVER STOP BELIEVIN' – Journey Tribute
Rock Tribute
7:15 PM – 9:30 PM
July, 04
Alter Eagles – Eagles Tribute
Rock Tribute
7:15 PM – 9:30 PM
July, 8
Rush Hour – RUSH & KISS Tribute
Rock Tribute
7:15 PM – 9:30 PM
July, 15
China Grove & Supernatural
Rock Tribute
7:15 PM – 9:30 PM
July, 22
The US Stones – Rolling Stones Tributes
Rock Tribute
7:15 PM – 9:30 PM
July, 29
Absolute Queen – A Tribute To Queen
Rock Tribute
7:15 PM – 9:30 PM
Aug, 05
Loverboy – Loverboy, REO Survivor, and Chicago Rewired Tributes
Rock Tribute
7:15 PM – 9:30 PM
Aug, 12
Livin On A Prayer – Bon Jovi Tribute
Rock Tribute
7:15 PM – 9:30 PM
Aug, 19
Boston & Styx Tributes
Swing, Classical, Big Band, and Jazz
7:15 PM – 9:30 PM
Sep, 2
Rocket Man – Elton John Tributes
Rock Tribute
7:15 PM – 9:30 PM
Sep, 9
In the Light of Led Zepplin Tributes
Rock Tribute
7:15 PM – 9:30 PM
Sep, 16
Let It Be – Beatles Tributes
Rock Tribute
7:15 PM – 9:30 PM
Sep, 23
Completely Unchained – Van Halen Tributes
Rock Tribute
7:15 PM – 9:30 PM
Sep, 30
Wall of Echoes – Pink Floyd Tribute
Rock Tribute
7:15 PM – 9:30 PM