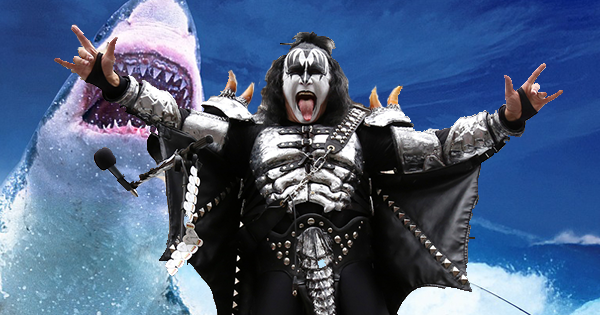 Just when you thought Gene Simmons couldn't find a new audience, KISS announces they will perform for the great white sharks of Australia. The greatest band in the world is scheduled to play for the sharks — and eight lucky fans —during a concert in Australia on Nov. 18.
Here's the answer to that "how" question you just asked yourself. KISS and their fans will travel (aboard separate boats) off the coast of southern Australia to a location where the fans will be lowered into a viewing sub in an area known for shark activity. KISS will then, using underwater speakers, will begin to play, and the sound will be audible to the submerged fans and the sharks.
This time we're really going "down under" and making sure we give the great white sharks something they can sink their teeth into. –Paul Stanley, KISS
The performance is part of a promotion by Airbnb Animal Experience, designed to have people entertain animals instead of having animals entertain humans, according to a press release and video. Check it out.
All proceeds from the 'KISS Concert for Great White Sharks' experience will go towards the Australian Marine Conservation Society. To book 'KISS at Sea with Great White Sharks' visit www.airbnb.com/kiss on Monday October 14, 6pm ET. The Experience will take place on November 18, and is available for $50 per person.
https://youtu.be/WcKnHaSBfSA
For more information on Airbnb Animal Experiences, visit www.airbnb.com/animals.