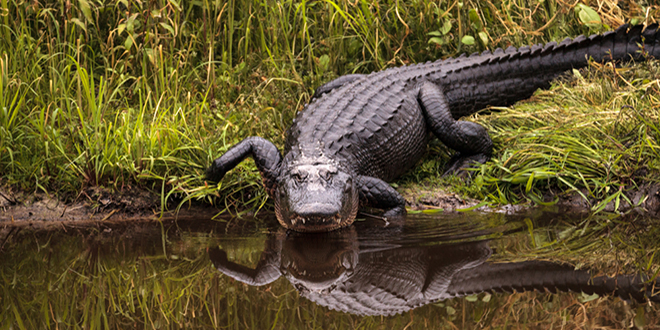 Alligators in Florida headlines are nothing new. From bites to bathtubs to smashing through kitchen windows, the Florida alligator goes after and takes what he wants. Who knew that what he really wanted most was the Florida man.
According to a report written by state biologists for the Florida Wildlife Commission, when you look at 40 years of data, alligators bite men more often than women, and bite victims are residents of the Sunshine state as opposed to selfie taking tourists.
Apparently, the Florida man likes to get into and play around small, man-made bodies of water where the ravenous reptiles like to reside. Therefore, it's scientific fact that alligators prefer to munch most on the Florida man.
Here are five facts about the Florida state reptile for all your trivia needs. 
There are an estimated 1.25 million alligators in Florida and males do about 75% of the biting. Despite folk lore about females fiercely defending their nests, "they hiss and do bluff charges," but "give intruders enough time to get away."
Florida reports about 90 percent of all alligator bites across the U.S.
42% percent of bites occur in canals and other unnamed bodies of water that victims may not realize alligators call home (Yeah, I had some trouble believing Floridians don't realize alligators live in canals too, but here we are.)
There have been 406 bites from 1971-2018, of which 278 were major and 25 were fatal.
The average number of bites per year is 10. Except, 2001, there were 16 reported bites according to FWC records.
[h/t Tampa Bay Times]