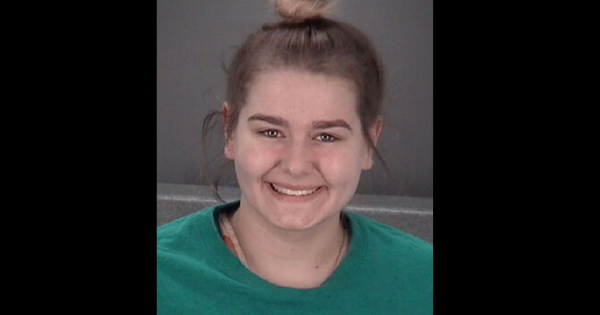 Our first MOTY (Mugshot of the Year) nominee belongs to a Florida woman who looks really happy to have her mugshot taken.
Serina Probus, 20, is smiling in the face of some pretty serious charges. Pasco County deputies say she told them she doesn't remember hitting a man with her SUV back in October because she was too high on cocaine. Somehow, she didn't get charged right away, she was charged on Jan. 1 after police responded to a separate incident involving her biting her sister-in-law. Probus allegedly bit her sister-in-law after she attempted to restrain Probus from leaving the home with her 6-month-old baby after she'd been drinking.
Police took her into custody while she spat at them, spewed profanities, kicked out a window in the cruiser and even attempted to urinate on  police when they tried to bind her legs.
Probus was arrested for a misdemeanor charge of domestic violence, felony charge of battery on a law enforcement officer and finally, aggravated battery with a deadly weapon for hitting the man with her car back in October 2019.
[h/t WIS/TampaBayTimes]