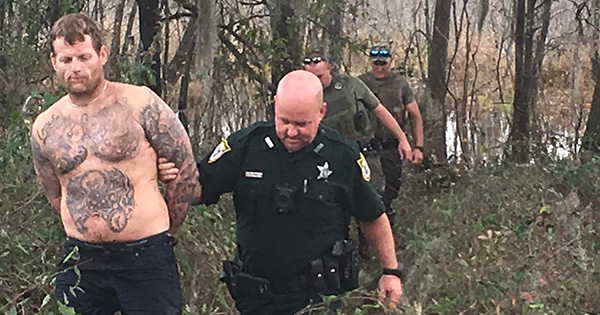 Daniel Christopher Booth of MacClenny, Florida just tested a childhood cartoon escape plan. The 36-year-old man from attempted to evade arrest by Suwannee County Sheriff's Deputies by hiding underwater in a pond—but was captured when he came up for air.
A news release on the Sheriff's Facebook page say Booth had warrants for his arrest from Baker County for selling methamphetamine, so a sheriff's deputy was sent to his place of employment to pick him up.
"When Deputy Wadford arrived at the solar plant, Mr. Booth decided that he didn't want to go to jail and tried make his escape and ran away," the sheriff's office said. "Now we can only assume that Mr. Booth has seen one too many action movies and thought he could hide from the K9 teams from Suwannee CI and Mayo CI by hiding under the water in a pond," along with a facepalm emoji. "He didn't take into account he's not a fish and had to come up for air and was quickly captured."
The Sheriff's post including the hashtags: #actionmoviesarenotreallife #NotRambo and #BreathingIsNotOptional.