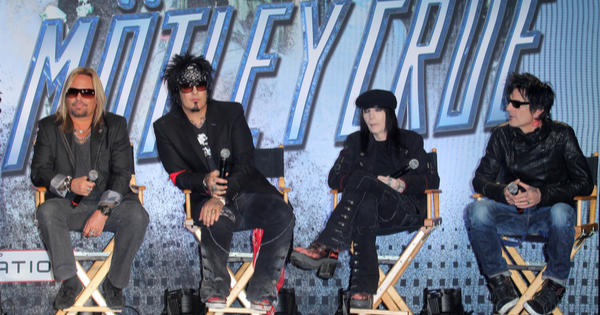 If you have already seen The Dirt, you know that watching the movie alongside the Mötley Crüe sounds like a good time. If you haven't seen The Dirt, I'm here to tell you that watching even only the opening scene alongside the band, well, it should be memorable.
Mötley Crüe is inviting you to watch The Dirt with them this Friday, while they provide running, live commentary of the film, along with the actors who played them. The Tweet along starts at 7pm ET, check out the band's Twitter and follow along with the hashtag #StayHomeSweetHome.
The Dirt, based on the 2001 Crüe autobiography of the same name, premiered on Netflix in March 2019.
The Crüe announced their reunion tour for this summer, citing The Dirt at the catalyst that got them back together. The Stadium Tour, also featuring Def Leppard, Poison and Joan Jett & the Blackhearts is expected to make an official announcement on its status on June 1. As of now it is still scheduled to kick off June 18 in Jacksonville, Florida.