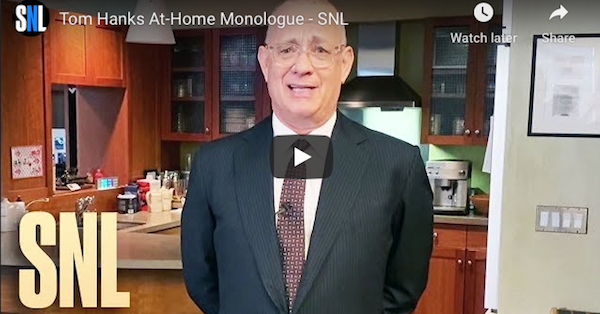 This weekend, "Saturday Night Live" did an "at home" quarantine special hosted by American treasure (and COVID-19 survivor) Tom Hanks. Coldplay's Chris Martin was the musical guest.
The cast appeared remotely in pre-taped bits from their homes with Hanks doing a monologue from (his?) kitchen where he surmised the episode saying, "Will [this episode] make you laugh? Eh, it's 'SNL'. There will be some good stuff, maybe one or two stinkers, you know the drill."
We don't know if there will be any more quarantine episodes of "SNL", but the world needed at least one. Check out some of our favorite clips below.
Chris Martin performed a solo acoustic version of Bob Dylan's "Shelter from the Storm"…
Larry David appeared as Bernie Sanders…
Here's one about Zoom digital meetings, which many of us can relate to right now…
Ruth Bader Ginsburg had a workout video…
The weird things we are making competitive since there are no sports…
A split-screen "Weekend Update", complete with an added audience and Alec Baldwin phone in as President Trump…
Two separate Pete Davidson raps, a Drake music video and an Andre 2000 music video…