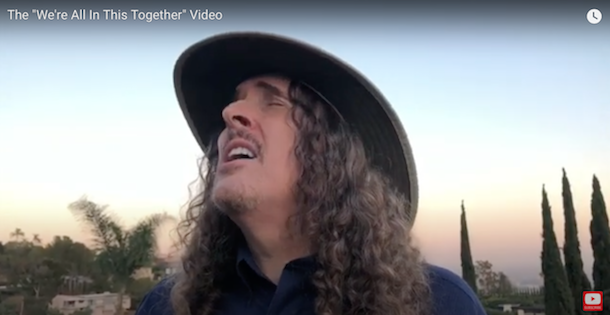 What do you do when the world cringes at a Gal Gadot's "tone-deaf" YouTube video of celebrities coming together to sing "Imagine"? Make a parody YouTube video of celebrities coming together to sing a Weird Al Yankovic classic.
David Cross and Bob Odenkirk got the Mr. Show ranks together to raise money for Lift (an organization that assists families facing poverty) with a special event called, The Mr. Show 'Kidz With Beardz' Presents: Come Join Our Zoomtacular Annual Business Call!
Our favorite part was the parody of Gal Gadot's "Imagine" video that made the world cringe. Please enjoy a solemn rendition of comedians performing Weird Al's parody of "Beat It," "Eat It"
Because, as Weird Al says, "Truly there's no problem that can't be overcome when you get a bunch of celebrities together to sing something."
Premiered on May 13, 2020 at the Mr. Show Zoomtacular Annual Business Call Event for Charity.
Featuring: Scott Adsit, Al Yankovic, Fred Armisen, Rachel Bloom, Amy Carlson, Bryan Cranston , David Cross, Béla Fleck and Abigail Washburn, Al Franken, Heidi Gardner, Tony Hale, John Hodgman, Jack Black, Michael Mando, Michael McKean, Patton Oswalt, Sarah Silverman, Bob Odenkirk, Alison Pill, Phil Rosenthal, Paul Scheer, Rhea Seehorn and Amber Tamblyn.