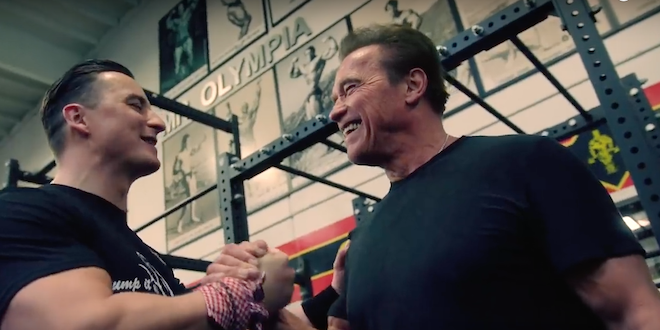 YES!! Arnold Schwarzenegger just made his hip-hop debut! THE TERMINATOR busted his very first rhymes, and they're not exactly fresh but the former Governor of California tried and there was no COLLATERAL DAMAGE.
Singer Andreas Gabalier from Arnold's home country of Austria wrote a song about him called "Pump It Up – The Motivation Song", and actually got THE LAST ACTION HERO to drop some bars on it.
His rhymes include these TRUE LIES:
"Break some rules, knock down wall, don't be afraid to fail / You have to think outside the box, I say no pain no gain. I don't want to hear it can't be done, give always something back / My name is Arnold Schwarzenegger. I'll be back."
Check out the video below. Enjoy.
[h/t people]