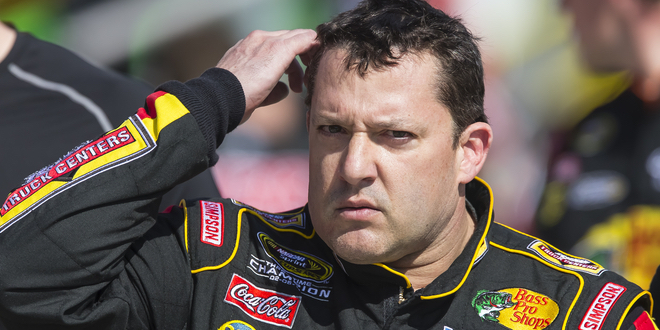 This is exactly why you don't mess with Tony Stewart. He will chase you down and punch you in the face. 
48-year-old Stewart, a 3-time NASCAR Cup Series champ, was signing autographs at a dirt track in  Minnesota over the weekend after driving in a sprint car race at the Jackson Motorplex. According to TMZ, his engine blew after the first lap and one fan reportedly was furious about it and accused Stewart of bailing on the race on purpose.
In the video you can hear the exchange back and forth between the (ex) fan and Stewart, "F–k you, Tony," he says, "You piece of s–t. You come here and basically race for one lap and quit, you piece of s–t."
Stewart reportedly responded, "I blew my engine, you f–king a–hole. Do you want to pay for it?" In the video, Stewart can be seen giving the man the finger and telling him to "f–k off." When the heckler says, "Hey Tony, I've got two of them," Stewart loses his mind and chases the guy down to punch him square in the face.
Needless to say, Smoke's fans were pleased, "F–k you, bitch!" one yells at the heckler, while another can be heard saying, "Atta boy!" Another uses his nickname, "Way to go, Smoke!"
Cops tell TMZ Sports they were NOT called to the scene and the matter was handled internally by race track officials. They say no formal complaints against the driver have been filed. Stewart is set to be inducted into the NASCAR Hall of Fame in 2020.
[h/t TMZ]