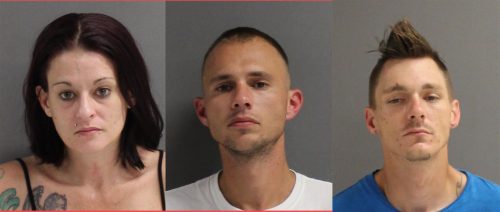 Meth, Prescription Drugs Among Items Seized
DeLeon Springs, FL – A trio now finds themselves in jail after a raid seizes a slew of narcotics and other accessories.
Early yesterday morning (November 26th), members of the Volusia Sheriff's Office, VSO SWAT and the West Volusia and Deltona Narcotics Task Forces set out with search and arrest warrants for a home off of West Avenue in DeLeon Springs.
There is where law enforcement seized 156 grams of suspected methamphetamine oil, 3 grams of methamphetamine, 11 hydromorphone prescription pills, 10 alprazolam (Xanax) tablets, a rifle and ammunition, various drug paraphernalia and three suspects.
Those three suspects were 40-year-old Ashley Phillips, and 30-year-olds Garrett Puckett and Rory Gamberg.
This raid also came two weeks after the announcement of a larger operation involving VSO, Volusia Bureau of Investigation, FBI and the Florida Attorney General's Office, in which a meth and pill distribution organization that was being led from a prison cell in Georgia was taken out.
While this raid was not part of the operation, VSO says it sends a clear signal to the community that they will continue to arrest dealers and eliminate illegal narcotics activity in the county's neighborhoods.
The post Three Arrested In DeLeon Springs Raid appeared first on NewsDaytonaBeach.
Source:: News Daytona Beach