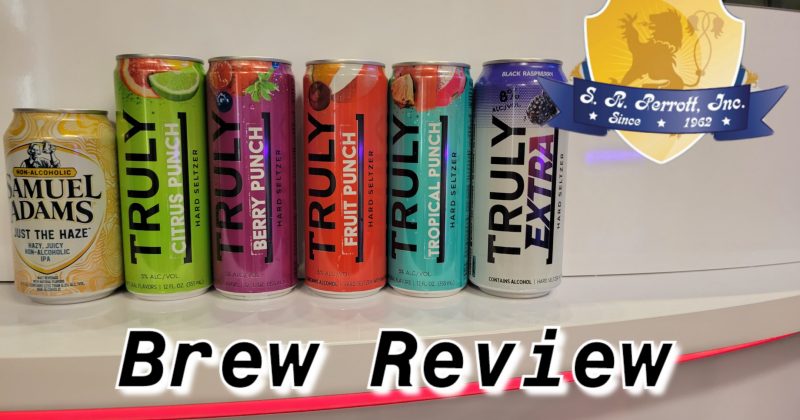 This week on The Riggs & Guy Brew Review with Josh From S.R. Perrott we had the pleasure of sampling the brand new flavor that Truly is bringing to the table… Truly Hard Seltzer Punch and a new beer from Samuel Adams!
We kicked things of with something new that Sam Adams brewed up. We cracked open their "Just the Haze" NA beer. That's right Sam Adams came out with a Non- Alcoholic beer. You get the nose of a regular IPA and the taste will fool you. You can't even tell that this Hazy IPA is non-alcoholic! Very well done! Next we got into the new Truly flavors. We start with the "Citrus Punch". Clocking in at 5% ABV, this was not what you think a Hard Seltzer would taste like. It had the nose of orange and actual punch! No Seltzer after taste and held the flavor all the way through. We finished off the first half of out journey with "Berry Punch". You get the flavors of blueberries, strawberries and raspberries. Same goes for this beverage. Fantastic punch flavor!
On our second half of our Brew Review we dove right into "Fruit Punch". It totally lived up to it's name and tasted just like fruit punch. Definitely a hit with everyone in the room! Next we cracked open "Tropical Punch". You an taste pineapple, watermelon and dragon fruit. It tasted like you could be on an exotic beach sipping on a cocktail for sure! We finished off with Truly EXTRA (black raspberry). This 16 oz. can contains 8% ABV and went down just as smooth as the punch flavors. They just added more "fuel" to the drink, Don't let it fool you. It packs a punch! Cheers!
If you want to know where to get these delicious flavors, head to srperrott.com/beerfinder