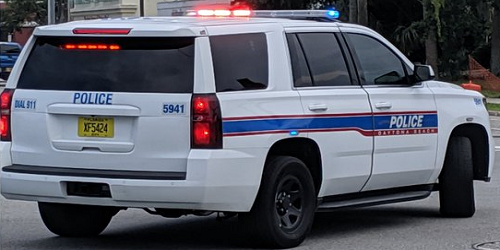 Daytona Beach, FL – Two officers are off for the rest of the week after both of them were attacked by a dog.
The Daytona Beach Police Department's Office of Professional Standards is now investigating since that same dog was shot and killed by one of the officers.
DBPD reports that Officers Michael Bodkin and Saheed Ali responded to a home off of Reva Street just before two o'clock this morning (November 15th) with reports of a domestic disturbance.
Both officers walked up to the home and rang the doorbell in order to speak to the residence about the supposed disturbance, which investigators later found out was a false report.
Before someone actually answered the door, both officers heard two dogs barking inside the home. Once the door was opened, two dogs ran out of the home, barking and jumping at the officers in an "aggressive manner."
One of the dogs was an all-white pit bull looking dog, the other a black Rottweiller pit-bull mix.
The all-white dog first jumped towards Officer Ali, causing both of them to back away. Officer Ali fell to the ground and suffered minor abrasions to his left forearm while trying to kick the dog away. The same dog then charged at Officer Bodkin, biting his right forearm and hand.
Officer Bodkin gave several warnings to the owner to get the dog back, but the owner was not able to control the dog. Officer Bodkin pulled out his firearm and fired multiple times, with at least two shots hitting the dog. The dog ended up dying on the scene.
Both officers were treated by paramedics on the scene and then taken to AdventHealth Daytona Beach for further treatment and evaluation. Both have since left the hospital and are on their normal days off from work.
As typical with this type of incident, DBPD's Office of Professional Standards is investigating the matter.
Both officers are expected to go back on duty starting on Monday (November 18th), with Officer Bodkin on light duty.
Bodkin has been with the DBPD since January of 2018, and Ali since July of this year. Officer Ali is currently in his field training phase, with Officer Bodkin serving as his trainer.
The post Police Investigating After Officer Shoots And Kills Dog appeared first on NewsDaytonaBeach.
Source:: News Daytona Beach