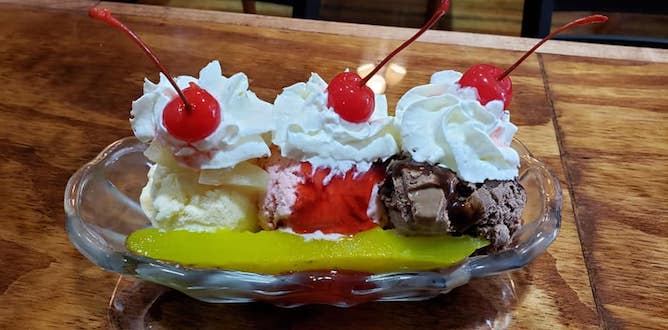 Welcome to the summer of 2019. Here to question your faith in humanity and solidify your valid questioning of all food items coming from St. Louis (and the surrounding areas) is the Pickle Ice Cream Sundae.
And yes, it is exactly what it sounds like: a glorious traditional ice cream split where the banana has been is swapped out for pickles, so that ice cream is stacked on top of two halves of a pickle spear.
This bold creation is the brainchild of Pine Mountain Country Coffee House, in Missouri. In an interview shop owner Deanna Farrar said the pickle split was inspired by a teenage dare to eat pickles with ice cream. It turns out she loved it and now it resides on the Pine Mountain Country Coffee House menu for $7.50.
"I was thinking one day at work, while working on menus to make a pickle sundae. Later that week while out to dinner with my husband we were talking about it and our waitress even said it sounded good and she would eat it," Farrar told KSDK-TV. "My husband said 'wow, next thing I know you will come up with a pickle spilt lol.' I told him that was genius! I made it and a lot of people really like it."