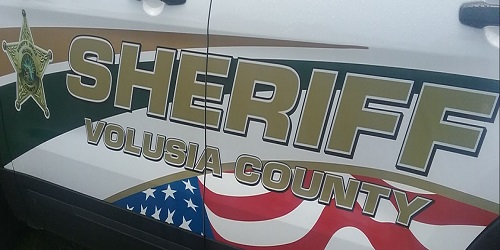 DeLand, FL – A 61-year-old woman is charged with first-degree attempted murder. Volusia Sheriff's deputies say Patricia Horne pulled a gun on her son during an altercation last night (November 24) at their DeLand home.
Investigators say that the incident began when a roommate at the home where they all live, woke up the son, saying his mother was upset with him for not answering or returning her phone calls. The son, whose name has not been released, went outside to speak with his mother. Horne began yelling and screaming at her son over the phone issue. The report states that he walked away from her, down the block, hoping to defuse the situation. As he walked back towards the house, he could hear Patricia Horne still yelling. He turned to walk away again which is when he saw her pull her handgun from her waist area. He grabbed the firearm while it was still in Patricia's hand. The firearm went off during the ensuing struggle barely missing her son's head. He was finally able to get the gun away from her while yelling for the roommate to call police.
The son told detectives that he believed that Horne was trying to kill him. The roommate corroborated the son's story about what happened, adding that he heard approximately three gunshots.
Deputies arrived prior to the detectives and made contact with Patricia Horne. She told them she had been in an altercation with her son, stating "you can put me in handcuffs." She then said, "my sons an ******* and he deserved it, whatever he got." When asked is she shot directly at her son, she said, "Yes sir I did, because he can't pay attention," and "while we were fighting I shot at him."
A handgun was found in the middle of the road when deputies arrived and a shell casing was found near where the victim said the altercation took place
Investigators determined that based on statements and evidence, Horne attempted to commit First Degree Murder. The victim, her son, said he did not want to press charges. Horne is in the Volusia County Jail, being held without bond.
The post Mother Charged With Attempted Murder Against Her Own Son appeared first on NewsDaytonaBeach.
Source:: News Daytona Beach