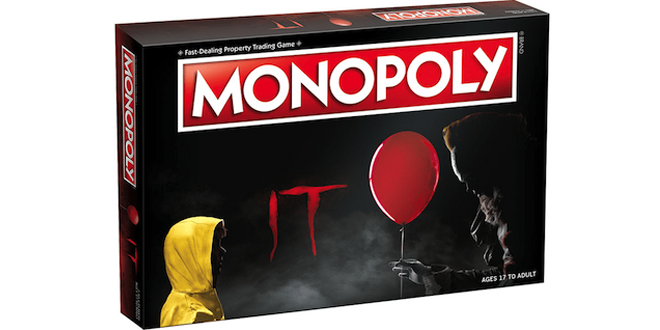 Looking for something to spice up game night? USAopoly has announced a partnership with Warner Bros. to bring child-devouring clown Pennywise to your game night. The official statement warns you…
An ancient evil lurking under the town of Derry, Maine rises from its slumber every 27 years to terrorize the town's children, and Pennywise has yet again to emerge… this time, in eerily familiar forms that will take over your future game nights.
The Loser's Club's latest mission is to fight back against Pennywise in Clue, Monopoly and the first-ever signature game based on the horror franchise, IT: Evil Below!
Based on the 2017 remake, CLUE has Bill Denbrough and his friends attempt to foil Pennywise's Plan. They will travel between different locations to identify various items used to lure the town's kids, all while avoiding Red Balloons that will end their mission before revealing the killer's clown's plan. CLUE: IT will be available this March.
MONOPOLY: IT still puts capitalism front and center as playing buy, sell, and trade places in, around and under Derry, Maine. Players can also draw Encounters and Phenomena cards. The game pieces are nods to the movie's iconic items such as an Inhaler, Paper Boat, and Bicycle. MONOPOLY: IT will be available later this year.
And finally the pièce de résistance IT: Evil Below is a cooperative dice and card game that challenges all members of The Loser's Club to work together to drive Pennywise back into hibernation. More info on Evil Below is promised soon.
Keep your eyes peeled for danger around every corner as these and other collectibles become available through 2020, along with the theatrical release of It: Chapter Two, coming this September!