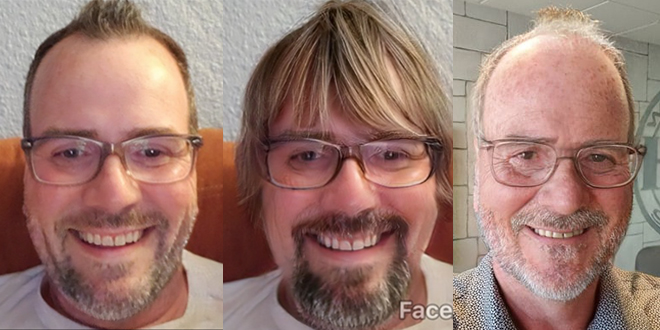 The hacking story over FACEAPP's access to your camera roll is scary and not even in the way you first think.
First thought, porn, and if that's not your first thought, I'm sorry. Second thought, back up images of your credit cards, driver's licenses and important stuff but NO it's not even that.
If you don't know what I'm talking about, it's FACEAPP, the app responsible for images clogging your social media accounts where people are re-imagining themselves much older and younger than their current age.
Actually, this is the second time around for the app. FACEAPP first went viral in 2017 and then had some issues because it allowed you to change ethnicity, and we all know that is no good. Now its going viral again because of the aging filters and ability to add hair/change hair colors – its basically the undercover boss filter app. See the example above – I did it too.
This morning I read about security concerns because its a Russian developed app and the terms agreement is a doozy. Its being reported the APP has access to your photo roll even when you say to never access it. Well first, its not as alarming as the headlines would lead you to believe if you read the technical details. (Unless you have an IOS, it gets a little dicey for the Apple people out there.) Techcrunch has a great article that explains the nerdy details I would mess up if I tried to explain it here.
What is scary is these apps demonstrate how much information people are giving away on the internet by using a 'free' service. "Your face is now a form of copyright where you need to be really careful who you give permission to access your biometric data. If you start using that willy nilly, in the future when we're using our face to access things, like our money and credit cards, then what we've done is we've handed the keys to others." Says Business Technology expert Steve Sammartino.
I haven't even gotten into the blackmail part – they also have information about where you've been, how you shop, and in short you may not want your mom or boss to find out you've been going to that Furry convention in Pittsburgh every year.