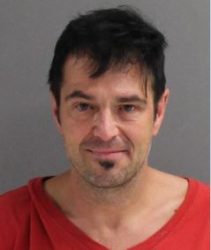 Daytona Beach Shores, FL – A Daytona Beach Shores man, 44-year-old David Martin, faces one felony charge of Aggravated Assault with a Deadly Weapon, w/o Intent to Kill and two misdemeanor charges, Resisting an Officer w/o Violence and Intoxication in a Public Place Causing a Disturbance.
Daytona Beach Shores Public Safety officers responded to a possible disturbance call Sunday (November 10) evening to an apartment building on Boynton Boulevard. The reporting person said Martin was intoxicated and had been screaming racial slurs and threatening her throughout the day. The woman said at one point, Martin was in the hallway, still screaming, "I'm gonna (REDACTED) you up," while holding a hammer resting in his shoulder.
Officers responding to the call could hear Martin screaming from his apartment as they interviewed the reporting person. They attempted to speak with him, identifying themselves as law enforcement. Martin kept screaming and turned his violent comments toward the officers. When an officer asked Martin to open the door so they could talk, Martin told the officer to open it himself, that they were going to fight and that he was going to "(REDACTED) me up."
Martin eventually opened the door but did not show himself, trying to get the officers to come in while threatening to hurt them. He then slammed the door shut. At this time, other neighbors approached the officers to complain about Martin. Right after that, neighbors witnessed Martin running out the back door of his unit toward the beach. They alerted the officers who noted that Martin walked east across A1A. They apprehended him on the Browning beach approach without incident.
The report states that Martin appeared to be extremely intoxicated and unsteady on his feet, with bloodshot, glassy eyes. His speech was slurred and officers smelled a strong odor of alcohol coming off of him. Martin told officers he has no recollection of the disturbance between him and his neighbor.
Martin was taken to the Volusia County Jail. He has since been released.
The post Intoxicated Man Arrested For Threatening Violence & Yelling Racial Slurs appeared first on NewsDaytonaBeach.
Source:: News Daytona Beach