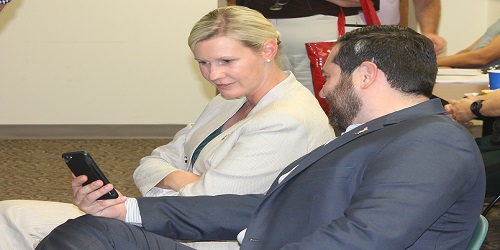 Daytona Beach, FL – Two bills championed by two local lawmakers seek to offer what they call "misdemeanor mental health diversion programs."
According to the text of the proposed bill (House Bill 293/HB 293), communities could apply for specific grants to establish those programs that set up mental health screenings before the jail intake process for certain misdemeanor defendants.
With that, the court could authorize evaluations or assessments if a party or the court raises a concern regarding the misdemeanor defendant's competency to proceed due to a mental disorder. The bill would also authorize the court to exhaust therapeutic intervention before a misdemeanor defendant is returned to jail.
Behind that bill, and a companion bill in the State Senate (Senate Bill 464/SB 464), is Representative Elizabeth Fetterhoff (R-DeLand) and Senator Tom Wright (District 14).
Fetterhoff made a recent appearance on WNDB's Marc Bernier Show to speak briefly about the proposed bills both she and Wright are trying to push through in 2020. According to Fetterhoff, she's pretty confident.
"I think it's got a really good chance," said Fetterhoff. "There's a lot of aptitude behind this."
The "aptitude" she mentioned is support from Attorney General Ashley Moody, Governor Ron DeSantis and First Lady Casey DeSantis.
HB 293 is also similar to another bill filed by Fetterhoff last year. That bill essentially made mental health screening mandatory in all 67 Florida counties.
"What we did this year was make it a little bit easier for people to voluntarily do this, if they have issues in their jail," said Fetterhoff.
The new bill would also make it so fiscally constrained counties aren't required to put in the 50% match for funding. This bill could also help quell the "mental health crisis" that some Florida jails are seeing, according to Fetterhoff. A problem that she says she has seen in Volusia County.
Bernier: You've toured some correction facilities in Volusia County and I understand that there are 40% of inmates that have mental health disorders?

Fetterhoff: According to the warden at Volusia County Jail (Larry Langdon), about 40% of their current population has a mental health issue. We're basically warehousing individuals with mental health issues…

The Marc Bernier Show, 11-14-2019
To combat the crisis, if an inmate is found to have a mental illness or an intellectual disability, they can be transferred to community-based services. There, workers will find out exactly what their issue is and how they can be treated.
"These individuals wind up spending seven to eight times longer in jail because they're not able to defend themselves or talk to their attorneys to go to a first appearance to get released," said Fetterhoff. "They're costing the system more because they have to be here that much longer."
Fetterhoff says a majority of these individuals are charged with simple misdemeanors such as trespassing, theft and other non-violent crimes.
"They're cycling in and out of the system over and over again and we just want to stop this cycle and get them the help they need," said Fetterhoff.
Inmates who go through these problems will also receive follow-up treatments for their problems following their release. That's outlined in an appropriations bill that's also filed by Fetterhoff.
"Identifying what's going on with these individuals can then direct them and diver them to the services that they need and they're not going to have to deal with getting charged with a misdemeanor and going through this whole process of getting incarcerated."
Marc Bernier can be heard live on FM 93.5 and AM 1150 WNDB, Monday through Friday, 6-9 a.m. with Chuck Bennett on Bennett & Bernier, and 3-6 p.m. on the Marc Bernier Show. You can also find archived interviews and audio on his website, MarcBernierShow.com
The post Fetterhoff, Wright Pushing Inmate Mental Health Bill appeared first on NewsDaytonaBeach.
Source:: News Daytona Beach