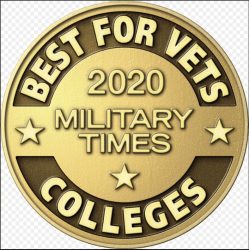 Daytona Beach, FL – Embry-Riddle Aeronautical University is named as one of Military Times magazine's "Best for Vets: Colleges 2020" for the third consecutive year. The ranking is based on outstanding educational services to student veterans and dependents of veterans.
Angela Albritton, ERAU Director of Military Relations & Strategic Initiatives says, "It's a great honor. We're very pleased that we have one it again this year. We've won it in the past as well and I think that it just really shows our commitment to our military and to our veterans." As an Army mom, Albritton said "I'm extremely committed to making sure that we're doing, just from a personal standpoint, I'm one of the many, many at Embry-Riddle that have personal connections with the military. We're just very proud of our history and what we're doing to serve our country."
Military Times editor in charge of rankings, George Altman said that "fewer than half of the roughly 500 colleges and universities that competed for the recognition earned the right to call themselves Best for Vets in 2019. Their efforts should be commended."
Albritton said that Embry-Riddle's Worldwide Campus ranked No. 10 in the United States in the online/nontraditional category. The University's Daytona Beach, Fla., and Prescott, Ariz., campuses were also named among the nation's Best for Vets.
More than half of the more than 33,000 students, about 57 percent, that have been served by ERAU's three campuses are veterans, members of the military or military dependents. Albritton said that a number of Embry-Riddle faculty members, as well as Trustees, are veterans.
"We're honored to be named among the nation's Best for Vets institutions," said Embry-Riddle President P. Barry Butler. "The University's legacy of support for members of the military dates back to our founding. We have long recognized that service in the military provides individuals with invaluable skills, particularly self-discipline, communication and teamwork, and an appreciation for a strong safety culture. All of those skills are essential in the aviation and aerospace fields. Embry-Riddle is proud to serve those who serve."
Since the 1970s, Embry-Riddle Worldwide has offered its first courses for pilots and aviation technicians to the military. Now those courses are taught at approximately 90 military installations around the world. Albritton said active-duty service members and veterans are taking ERAU's education programs.
In compiling the Best for Vets rankings, Military Times evaluates institutions in five categories: University Culture, Academic Outcomes, Quality, Student Support, Academic Policies, and Cost & Financial Aid.
To be considered for the Best for Vets: Colleges 2020 ranking, general education institutions must offer bachelor's or graduate degrees or both. They must also complete the Best for Vets survey. Institutions in the rankings tend to participate in the Yellow Ribbon program and can demonstrate their support for the three major military and veteran education agreements: Principles of Excellence, 8 Keys to Veterans' Success and the most recent Department of Defense Memorandum of Understand.
The post ERAU Named To "Best For Vets" List For Third Consecutive Year appeared first on NewsDaytonaBeach.
Source:: News Daytona Beach