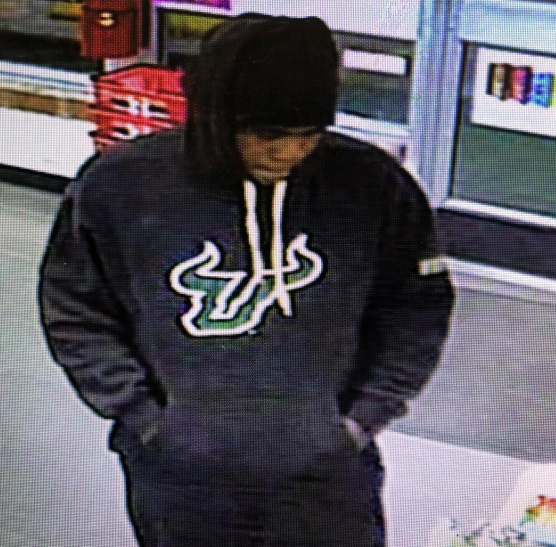 Daytona Beach, FL – Officers need the public's help in finding the suspect involved in an armed robbery that occurred over the weekend.
This is also the second armed robbery to occur within the past few days.
Daytona Beach police report that the robbery happened just after 8 p.m. at a 7-Eleven store just off of South Ridgewood Avenue.
Employees at that store report that the suspect entered the store and waited at the counter as a clerk finished another transaction. Once that customer left, the suspect pulled out a snub-nose style revolver and pointed it at the cashier and motioned towards the register. They asked if he wanted money and the suspect nodded his head.
The clerk gave the suspect the money out of the register. At that point, the suspect motioned towards another register and a safe. The clerk could not get access to the safe, so they instead gave the suspect the money out of the other register only.
Police report that the suspect never spoke clearly and only mumbled demands. After getting the money, the suspect left the store headed southeast on foot and towards an unknown location southbound on Palmetto Avenue. When they left, the clerk hit the store's panic button and called for help.
A K9 unit was dispatched but they soon lost track southbound of the business. No one was injured and the suspect took less than $50 from the business.
He was seen wearing a black hoodie with a green University of South Florida logo on the front along with black pants.
Anyone with any information is asked to contact DBPD's Criminal Investigation Division, Detective Dave Dinardi at (386) 671-5219.
The post Authorities Investigating Another Armed Robbery appeared first on NewsDaytonaBeach.
Source:: News Daytona Beach