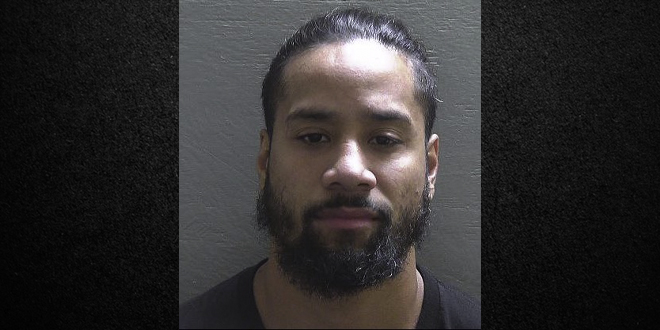 WWE Superstar Jimmy Uso, is back in the hands of law enforcement after being arrested again, this time for DUI in Florida.
Uso was speeding near Pensacola, Florida early Thursday morning when an officer got behind him and noticed he was driving erratically, according to TMZ Sports. Allegedly, when the cop pulled him over Uso smelled like alcohol and refused a sobriety test, so he was arrested on a DUI charge and a speeding citation.
33-year-old Uso was booked at 3:04 AM on the charge of driving with an unlawful blood alcohol level. Jonathan Fatu, he legal name, is still behind bars with a bond set at $1,000.
This isn't his first run in with the law either, back in February, Uso was arrested after allegedly getting into a drunken dispute with cops in Detroit. He was arrested for disorderly conduct and obstruction.
In an ironic turn, it was just days ago on RAW that John Cena made fun of Uso's mug shot from his February arrest, and now here we are with a brand-spanking-new mugshot for him to mock on Monday.
WWE issued the following statement to the media this afternoon in response to Jimmy Uso's latest arrest:
"Jonathan Fatu is responsible for his own personal actions."
WWE has made similar statements in the past for other alcohol-related arrests involving their talent.
Uso is the son of WWE Hall of Famer Rikishi and is married to WWE star Naomi. He and his brother make up the Uso Brothers tag team that is six-time WWE tag team champs.