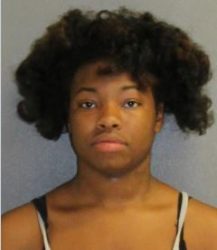 Daytona Beach, FL – An 18-year-old Daytona Beach woman is charged as the Principal with Robbery using a Firearm and Aggravated Battery with a Firearm after a 19-year-old man was shot in the leg. Daytona Beach Police say Takira Daniels asked the victim to meet her at the Wedgewood Apartments on Mason Avenue last Tuesday (October 29).
The victim told DBPD that he had been in contact with Daniels, known to him as "Nookie," for about a month before actually meeting in person. Last Tuesday, he said she asked him to meet her at the apartments and to get out of his car when he got there. The victim did as told and the woman he knew as "Nookie" came out to meet him.
The victim said he got back in his car which is when three black males armed with handguns approached. The driver's side of the car was still open. The victim said one of the men hit him multiple times with a handgun. The victim said he was pushed over to the passenger's side where the other two suspects hit him with their handguns.
The suspects then got the victim's pants off him, stealing his wallet and cellphone. The victim was able to get away from the suspects and started running away. He said he heard multiple gunshots and was hit by one on the back of his left leg. He was transported to the hospital for treatment.
Police say the woman known to the victim as "Nookie," later identified as Daniels, left the area and did not return to check on the victim or make herself known to law enforcement. A detective on the case determined "Nookie's" identity and contacted her the next day (October 30).
During an interview, Daniels told detectives that she knew the victim would have marijuana with him when he came to meet her. The plan was for the suspects to "just" rob the victim. Daniels said she did not know the suspects would have guns and the plan did not include the victim getting shot or hurt.
Daniels is out of the Volusia County Jail on a $12,000 bond.
The post Woman Lures Victim To Robbery Site appeared first on NewsDaytonaBeach.
Source:: News Daytona Beach