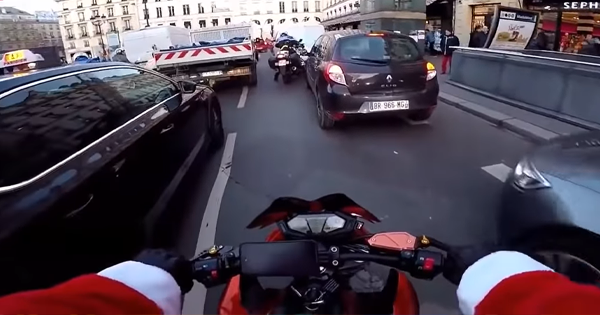 If you like Santa Claus and you like action movies, stop what you are doing right now and spend 3 minutes watching this Parisian Santa Claus chase down a hit-and-run driver on the streets of Paris. 
It all starts at a stoplight when he witnesses a car hit a pedestrian and then take off, so he tries to stop the car by pulling in front of it, but then the driver speeds off and the chase is on!
Seriously, Jason Bourne would be a jealous because this chase has everything; weaving in and out of traffic, squeezing between cars, almost getting hit, losing sight of the villain and even enlisting the help of the cops to join the chase and arrest the hit-and-run driver. Thanks to the first person camera on top of his helmet and Trash Seven on YouTuber, there's first-person footage of the entire thing. Enjoy.
(Warning: There's an S-word at 0:35 and after 3:46 it's just Santa speaking in French to different people after the villian is apprehended.)
https://youtu.be/N8CT-74eyBs