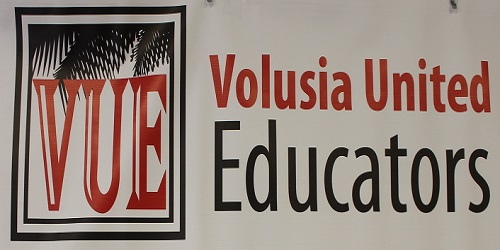 Daytona Beach, FL – A statewide tour makes its way to Mainland High School later this week. The Florida Education Association is engaged in a five-week, 50 county tour to raise awareness of the need for the Legislature to invest in Public Education. Volusia United Educators President Elizabeth Albert says that everyone in the community is affected by education. She invites all Volusia County residents to attend the community conversation. She says "Volusia County Schools is the largest employer in the district and everything that we do has a reach that affects everything else within our county."
Base funding for student education has fallen by more than $650 per student since the 2007-2008 school year, according to the FEA. Albert says that in Volusia County, for every dollar of tax money that goes to Tallahassee, Volusia County only receives 96 cents. She says that's not appropriate. There are other counties in the state, such as Miami-Dade, Duval, and Hillsborough, that receive more than a dollar for every tax dollar they send to the state capitol.
Albert said a recent announcement by Florida Governor Ron DeSantis to increase starting salaries for new teachers means there is about $600 million on the table, which she says, would be better used to equitably increase salaries for all educational professionals, not just a select few. "Veteran teachers have seen a decrease, proportionately, in their salaries and it's time to correct that. It's time to put a stop to that and it's time to reward people for the longevity and the dedication that they've given to our children." Albert said she thinks that the Governor's announcement was disrespectful and demoralizing to veteran teachers who have dedicated their lives to the children in our community. Some have obtained advanced degrees to improve themselves professionally and are still not making the $47,500 starting salary mentioned by the Governor.
As for the newly selected Volusia County School Superintendent, Dr. Ronald "Scott" Fritz, Albert said that he has expressed the desire to collaborate with the teachers and all employees of Volusia County Schools and to build a relationship doing things together. "We've not had that necessarily in the past so we are just very excited for what the future holds for Volusia County"
The Fund Our Future Statewide Tour will be at Mainland High School on Wednesday, November 20 in the Multi-purpose room, from 6:30 to 7:30 p.m.
The post VUE President Invites Everyone To 'Community Conversation' appeared first on NewsDaytonaBeach.
Source:: News Daytona Beach