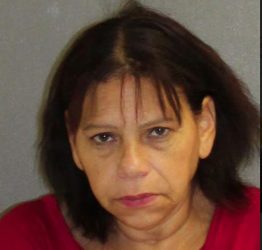 Deltona, FL – Volusia Sheriff's detectives say 57-year-old Sandra Rivera followed her victims into the Walmart on Howland Boulevard in DeLand, get onto an electrical handicap cart, follows the unsuspecting, sometimes older, victims down the aisle, and removes the purse out of the cart. Surveillance video shows her going to the next aisle, quickly removing valuables such as cash and gift cards, then hiding the purse behind other merchandise.
Rivera is charged in an incident that took place on Friday, November 15. A loss prevention officer saw Rivera on surveillance video stealing an older shopper's purse from her cart. The shopper caught Rivera in the act, plucking the purse out of the cart in a pharmacy aisle. She stopped her at the end of the aisle, grabbing her purse out of Rivera's hand. The victim did report the incident to customer service immediately. When told law enforcement was on the way she said she was too upset to report the crime.
Friday was not he first time the Walmart loss prevention officers have seen Rivera in action during two purse thefts at the store – October 18 and October 22. She has been identified and linked to both incidents and four additional pending cases by the Orange City Police Department, all at the same store.
The victim of the October 18 theft was shopping for more than an hour with her husband. When they went to check out, the woman realized her large blue purse was missing from her cart. The couple reported the theft telling detectives she had lost $1,025 in valuables including a cell phone, miscellaneous gift cards, cash, jewelry, and a replacement driver's license and Social Security card. The purse was found in the store three days later.
During Friday's incident, Sheriff's detectives were notified that Rivera had stolen a purse but the victim had gotten it back. Detectives and deputies arrived and set up a perimeter to locate her. She was soon spotted and identified as Rivera, but without the black jacket she had been wearing moments before in surveillance video.
Rivera is charged with two counts of grand theft of less than $5,000, and two counts of possession/receive/retain stolen credit/debit cards for the two reported October thefts. She is already out of the Volusia County Jail on a $30,000 bond.
If anyone has information about similar purse thefts, please email Detective Weaver at wweaver@vcso.us. If you'd like to remain anonymous, contact Crime Stoppers of Northeast Florida at 1-888-277-8477 or via the P3 Tips mobile app. You could receive a cash reward.
VSO reminds everyone to be extra vigilant when shopping and keep your valuables close at hand. It only takes a minute to become a victim of a criminal looking for the opportunity.
The post Purse Thief Suspected Of Targeting Older Woman Arrested appeared first on NewsDaytonaBeach.
Source:: News Daytona Beach