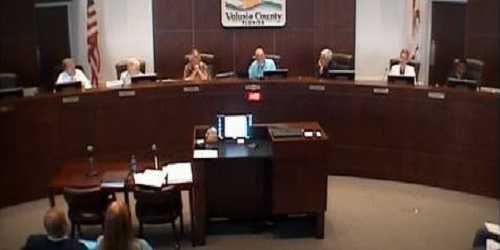 DeLand, FL – Tuesday's Volusia County Council meeting's Public Participation portion featured a number of Ormond-by-the-Sea residents letting their feelings be known on plans to change area septic systems to a sewer system. They asked that the council fund a study to prove that septic tanks are polluting the waterways. One man, Chuck Colbert, said the change was very wrong and that "you guys should be shot." County Chair Ed Kelley and other Council members addressed the comment at the end of the meeting by telling deputies to escort someone out next time they mention shooting in public comments.
Council granted relief of a lien in the amount of $10,419.55 after the property owner requested relief from the interest charged on the lien. The lien was placed by the county in 2009 because the owners at that time failed to demolish or repair a home that had been decimated by fire. Adjoining property owners complained and the County hired someone to demolish the home which is where the lien began. The current owner, who inherited the property, asked for the relief on October 15. Both Deb Denys and Heather Post commended staff on their quick work to find a way to offer relief. Post said that from now on this relief should be standard operating procedure.
Council members heard more about the multi-district Opioid Litigation Negotiation Class, which includes around 22-hundred counties and cities. There are two classes included in the litigation, those that filed suit before June 14, 2019 (which includes Volusia County) and those that did not file suit by that date. The Court has set a deadline of November 22, 2019, for a county or city to opt-out of the lawsuit. Council voted unanimously, upon staff recommendation, will remain in the negotiation class.
Another item that got a lot of attention is an amendment of standards for rural event centers to add notification requirements. The specific concern is whether or not staff is getting enough notice to when events were occurring so that staff could be properly allocated for code enforcement. Some Council members did not want to add the additional condition. Heather Post and Ben Johnson said having notice of an event is additional, useful information. Johnson said adding the notification requirement for rural event centers will let them know that Code Enforcement has some teeth. Ed Kelley said he thinks this requirement is an overreach. After a 30-minute discussion, the decision was made to not add the amendment.
The post VCC Meeting -Septic Systems, Opioid Litigation & Rural Event Centers appeared first on NewsDaytonaBeach.
Source:: News Daytona Beach