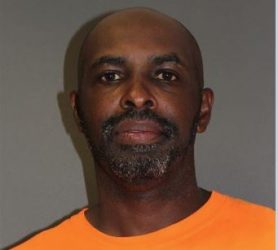 Cocoa, FL – The DeLand Police Department is reporting the arrest of 51-year-old Bernard L.Thomas, a suspect in the August 2017 murder of 39-year-old Tracy Adams of DeLand. Thomas was arrested Friday (November 8) on separate charges in Brevard County.
DeLand Police officials were notified of Thomas' arrest and were able to secure a warrant in connection to the death of Tracy Adams, who died from her injuries in 2017 after the car she was in was set on fire.
Police say that someone threw a can of gasoline on the car with Adams inside, then set it on fire. Witnesses say Adams was able to get out of the car. She ran into her home with clothing ablaze and blood on her face, catching the house on fire. Investigators wrote in the report that Adams said the suspect was there to kill her. Adams was taken to the hospital in critical condition. She did not recover from her injures and died about four weeks after the incident.
Prior to the fire, records from the Volusia County Jail show that Thomas had been arrested a few times and charged with aggravated battery, aggravated assault and battery.
Thomas is charged with one count of first degree murder, two counts of arson and one count of possession of a firearm by a convicted felon. He remains in custody on $250,000 bond.
There's no information at this time on when Thomas will transferred to Volusia County.
The post Suspect In 2017 DeLand Woman's Death Arrested appeared first on NewsDaytonaBeach.
Source:: News Daytona Beach