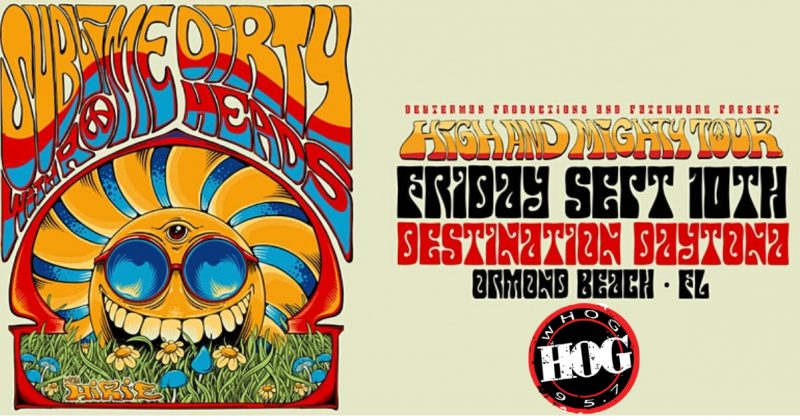 (Dirty Heads) Following in the footsteps of their California brothers Sublime, Huntington Beach's Dirty Heads mix hip-hop, reggae, and rock along with that laid-back So Cal attitude. The group formed in 2003 when punk rocker Dustin Bushnell (aka Duddy B) asked his friend, rapper Jared Watson (aka Dirty J), to collaborate on a project that would focus on positive vibes and infectious grooves. Watson added singing to his vocal skills, and with percussionist Jon Olazabal, an acoustic trio version of Dirty Heads began playing shows and building an audience.
(Sublime with Rome) Sublime With Rome was formed in 2010 by lead-singer/guitarist Rome Ramirez, bassist Eric Wilson, and drummer Carlos Verdugo. The band is currently on tour in support of their hit 2019 album BLESSINGS with singles WICKED HEART and LIGHT ON making a splash at alternative radio. BLESSINGS is the band's third studio album, and it was helmed by Rob Cavallo, the producer behind Green Day, My Chemical Romance, Linkin Park, and more. In 2020 Sublime With Rome is dominating the rock and alternative music charts as well as headlining 5K+ capacity rooms and major festivals worldwide. With fan-favorite hits such as WRONG WAY, SANTERIA, BADFISH, WHAT I GOT, CARESS ME DOWN, 40oz TO FREEDOM and many more, the band's concerts are pure sing along enjoyment from beginning to end.
(HIRIE) Hawaiian singer/songwriter Hirie spun her global citizenship into a lush and vibrant strain of reggae pop in the middle part of the 2010s. Backed by a six-piece band, the Filipino-born, Italian-raised, Oahu-based musician enjoyed somewhat of a breakout with her positively focused 2016 release Wandering Soul, and later built on that success with 2019's Dreamer.
Use the share tools on this event page to let your friends know where you will be. Please Print PDF ticket for entry into event or your phone email can work as well. No Refund Event. Rain or Shine Event. No outside chairs or coolers are permitted blankets are welcome NO RE ENTRY
VIP Reserved Seated and Pit access, VIP Wristband allows Re-Entry into Amphitheater

Performers
Date and time
Fri, September 10, 2021, 6:00 PM EDT
Doors at 6:00 PM
Location
Destination Daytona Pavilion
1651 N US Hwy 1
Ormond Beach, FL 32174
Purchase Tickets Here: https://bit.ly/3A3gPzJ