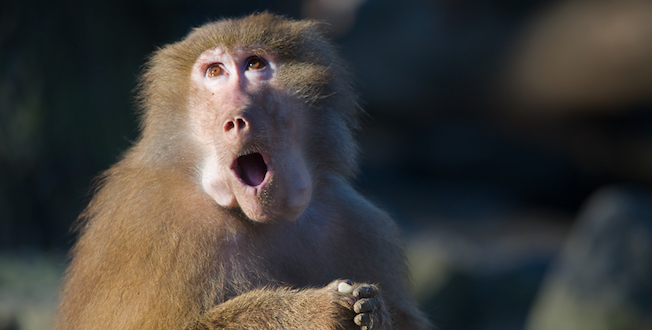 Yes, the title is accurate. No, there is absolutely no way to sugar coat this. SPANK the Monkey is a the ghost of an ape who does just that while haunting the hallways of a grand country estate in Dorset, England.
Haunted Athelhampton Hall is a popular wedding venue popular with ghost hunters trying to catch a glimpse of a randy monkey that haunts the halls the grand country estate. Tourists often hear the aroused apparition laughing while taking matters into his own hands, and the pervy primate is even rumored to have appeared in the background guests pictures.
The sexed up specter's afterlife antics have helped the hall to be named as one of the most haunted houses in England after being listed on We Buy Any Home's list of the nine most ghostly properties.
Here's the story, according to The Sun.
The 15th century house was originally built by the Martyn family whose crest featured an excited monkey sitting on a tree stump. The estate's motto was 'He who looks at Martyn's ape, Martyn's ape will look at him'.

According to the local legend, the unconventional Martyn family did have a pet ape which was free to wander the halls. And when one of the Martyn daughters had an unhappy love affair and decided to kill herself, the compassionate monkey began following her around. When she climbed a set of hidden stairs to a secret room, the ape trailed behind, and watched as she took her own life with the door bolted. By the time the family's search of the house and grounds eventually located the room, the ape had starved to death next to her body. Now its ghost haunts the hall, often scratching at the panelling of the secret room and staircase in an eternal, frantic attempt to escape.
The monkey isn't alone though, he is reputed be joined by six other human ghosts. Andrea Cooke, who has lived there with her family for more than 20 years, said she has witnessed "all sorts of odd and inexplicable things". Many with a rational explanation, she said, however, "There are always some which do not.
"Despite all this, it is an amazing place to live. "It is a beautiful home, we are happy here and generally it has a lovely atmosphere, in spite of the stories. "But on the odd occasion when something does occur, and I must stress, it is only occasionally, it reminds you that there are some things which are beyond our understanding."