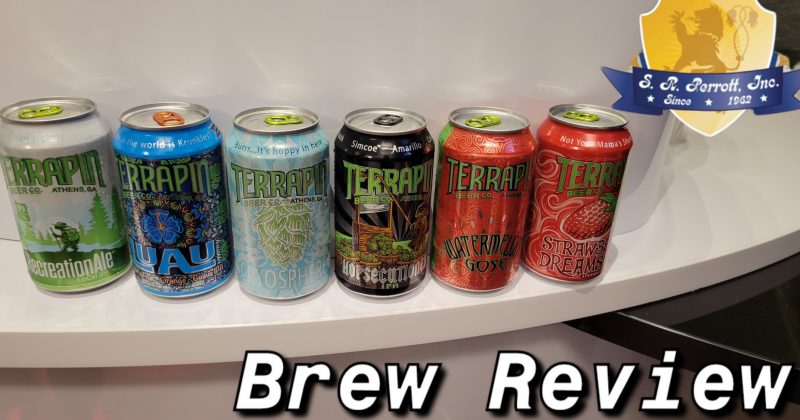 On this weeks installment of Riggs & Guy Brew Review with Josh & Amelia from S.R. Perrott we tackle the flavors of Terrapin!
We started with a nice low ABV beer called "Recreationale". Clocking in at just 4.2% ABV this beer is light and finishes crisp. Very easy drinking ale that's sure to keep you company all day! Next we crack open a familiar flavor, "Luau Krunkles". Clocking in at a nice 5.7% ABV you immediately get the notes of passionfruit, orange and guava. Those flavors mix extremely well the the juicy hops to create magic in your mouth. Now the next one was a new one for us. It's called "Chryosphere". This is because they use a state-of-the-art hop product called Cryo Hops in both the brewing and dry hopping of the brew.
In the second stage we take on a crowd favorite "Hopsecutioner". This baby clocks in at 7.3% ABV. With notes of pine & citrus it has a nice sweet malt backbone. Not exactly an IPA you want to hand to a beginner. We like to call it a big boy IPA. Next we popped the top of their "Watermelon Gose". It clocks in at a nice and simple 4.3% ABV. You get the immediate flavor of watermelon that is finished off with a nice little tarty flavor. That's because it's a kettle sour style beer. We finished our journey with their "Strawberry Dreamsicle". Its brewed with real strawberries and uses a bunch of lactose sugar giving it a smooth and creamy texture. Don't mistake it's name for a light beer… This puppy clocks in at 7.9% ABV.
If you want to find exactly where to get these brews. click here.