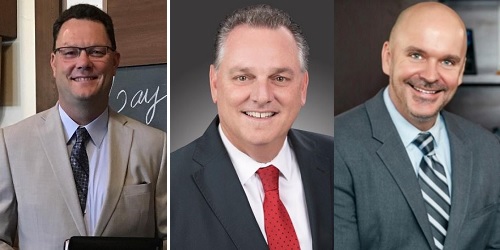 DeLand, FL – The Volusia County School Board is expected to make their selection of the new School Superintendent next Tuesday during their regularly scheduled meeting. But today, the three candidates, Dr. Ronald "Scott" Fritz, currently Chief of Staff for Teaching, Leading, and Learning for Osceola County Schools. Dr. Peter Licata, currently Regional Superintendent for Palm Beach County Schools, and Dr. David Moore, currently Assistant Superintendent in Miami-Dade County Public Schools will each be interviewed in a public forum. School Board President Carl Persis said that the interviews will be streamed live on the same YouTube channel that School Board meetings air on from 10 a.m. until 4:15 p.m.
The President of Volusia United Educators, Elizabeth Albert, said she will be sitting in on the interviews. She hopes that those that can't attend the interviews will try to tune into the live YouTube stream. You will still have a chance to meet the candidates before the final selection at a reception scheduled at the Sanborn Center in DeLand this evening from 6 p.m. until 8 p.m.
When asked if she has a favorite among the finalists, Albert said she has her own personal thoughts on the choices and the teachers union has not endorsed a candidate. She also said that each candidate is very qualified and each has a phenomenal resume. Albert says she's grateful that all three of the candidates are coming from different places so that they will bring the knowledge and experience that they had in their districts to Volusia County. She says VUE feels the need for something fresh and different.
After being interviewed in a public forum and meeting members of the community at a reception this evening, the candidates will be interviewed one more time. Tomorrow, each candidate will be interviewed individually by each member of the school board. Those interviews will be in private. Albert said today and tomorrow will likely be grueling and mentally exhausting for the candidates but, she said, "We want somebody that has the wherewithal, the tenacity, and the ability to make it through somewhat of a grueling process because if you don't have the stamina to do that I don't know how successful you'll be in a district as large as Volusia."
The post Public Invited To Interviews & Reception For School Superintendent Finalists appeared first on NewsDaytonaBeach.
Source:: News Daytona Beach