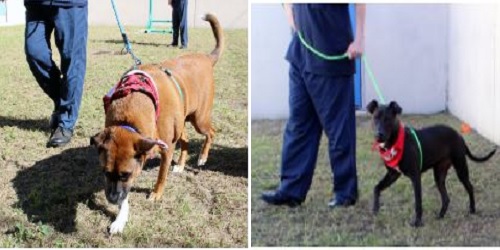 Daytona Beach, FL – A new program at the Volusia County Jail aims to change the lives of some female inmates and the lives of dogs from the Halifax Humane Society. The cooperative initiative between the jail and HHS trains female inmates to work with specially selected dogs to make them more adoptable. VCJ Warden Larry Langdon explains that the plan is to have two inmates work with each dog. They are starting off slowly to see how it works but two weeks in, he says he thinks the program will be a success.
"The dogs, their future was bleak at best," said Langdon, who's overseeing the program. "And the inmates' future may seem bleak at times. They're traveling this road together, and this new program provides a window of opportunity to build a better future for both."
VCJ Director Mark Flowers has been a strong advocate of making the jail not just punitive, but rehabilitative as well. The dog obedience class is just one example of this ideology. "Anything we can do to keep them busy, keep them positive and give them a sense of hope is a blessing from us," said Flowers.
Langdon said the benefits of the program are multi-faceted and you can already see them. "It gives the inmates meaningful purpose, they're happy to be around the dogs. It's a privilege so they want to obey the rules so they can keep doing this. They'll also get a certificate at the end of the seven-week program that they have learned the skills to take care of a dog and give obedience training to the dog, which hopefully gives them job placement when they leave."
The first two dogs in the program are 8-year-old Gracie and 6-month-old Diva. Langdon said that both dogs are already responding better to commands. He says the program is starting off small but when this seven-week session is over, he plans to bring more dogs in and involve more inmates. Langdon would like to see the obedience program expand to include inmate training of service dogs for people who suffer from post-traumatic stress disorder or other mental or emotional conditions.
The dogs will be returned to the Humane Society when the session is over, where their odds of being adopted will increase dramatically.
The post New Program At VCJ Helps Inmates & Dogs appeared first on NewsDaytonaBeach.
Source:: News Daytona Beach