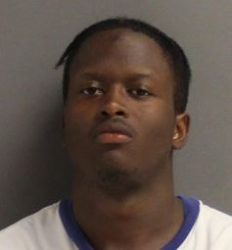 Deltona, FL – A 22-year-old man who threatened gas station employees, the Volusia Sheriff's deputy that arrested him and their families, and even Sheriff Mike Chitwood with shooting them or blowing up their homes, is in the Volusia County Jail today. Avis Akins was arrested on Wednesday, November 13.
Akins faces two felony charges of Corruption by Threat of a Public Servant or Family for the threats against the arresting deputy and Sheriff Chitwood. There's also a felony charge of Assault on a Law Enforcement Officer and another of Aggravated Assault with a Deadly Weapon for the implied threat of a firearm to the gas station employees. For good measure, add two misdemeanor charges and his bond is set at $21,500.
Deputies responded to the Race Trac gas station located at Howland Boulevard and Forest Edge Drive in Deltona around 10:30 a.m. Akins had been asked to leave the store by the manager. Before leaving, he implied that he was armed and threatened to shoot everyone inside the store. Deputies saw a person matching the description given by store employees walking on Howland Blvd.
Akins was extremely uncooperative and would not place his hands so deputies could pat him down for weapons. They were able to secure his with handcuffs but remained uncooperative, refusing to give his name. Another deputy pulled up and identified Akins as someone who had interfered as he was trying to conduct a traffic stop earlier. Akins was yelling threats and profanities at deputies during the investigation into the incident.
Akins' criminal history revealed felony convictions for battery on a law enforcement officer and carrying an unlicensed/concealed firearm. No firearms were found on his person and a search of the area also found no firearms. An order regarding contact before trial bans Akins from going within 500 feet of the gas station and its employees.
The post Man Threatens To Blow Up Gas Station & Chitwood's Home appeared first on NewsDaytonaBeach.
Source:: News Daytona Beach