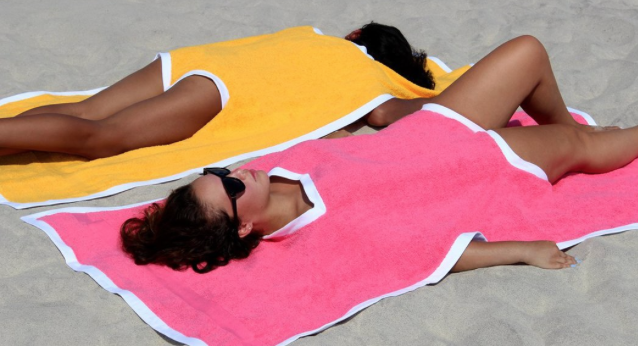 There's a new "swimsuit" generating a ton of buzz online called the Towelkini — and it's exactly what it sounds like — part-towel, part-swimsuit. It's kinda like the mullet of the swimwear world.
The product description explains that the 100% cotton (for swimming?) covering, "melds the two essentials for all things beach, no need to carry a cumbersome towel and an easy to lose swimsuit." It can be worn lying down for sunbathing and then stand up and BOOM you've got an ugly, albeit comfy, romper dress.
The Towelkini comes in pink and gold and is available at specialspecial.com for $199 and despite receiving some backlash and negative press — the Towelkini is apparently almost sold out. (If you believe what you read on the internet anyway.) The designer, Aria McManus posted a Towelkini photo, followed by screenshots of the media mocking her design with the caption, "#Towelkini press: "Bizarre" "Tan lines could be an issue." "We're not convinced." & some even parodied it ? But there are only a few left in pink and gold available online. Get 'em before they're gone!"
I only have one question though, if I wear a Towelkini, do I still need to wear underwear?