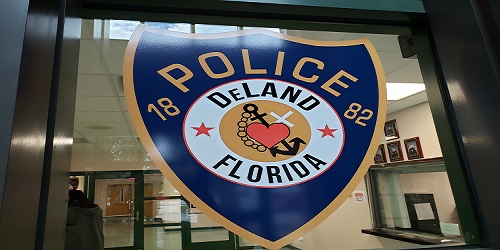 DeLand, FL – A DeLand couple calls for help after someone made their entrance and exit through two of their windows.
DeLand police arrived at the Heritage Estates Lane residence just after 12 o'clock in the afternoon last Friday (November 1st) to find the reporting party covered in blood. The man told police that it wasn't his blood, it was the blood of a man that broke into his house.
According to the report, the man and his girlfriend were in their home, which they have shared since 2015, when they heard a loud knock on their front door. Immediately after the knock, the man says an unknown black male – who has since been identified as 44-year-old Tavaris Jiles – jumped through their closed glass kitchen window.
After jumping through the window, the victim reports that Jiles was bleeding when he came running into the living room area. The narrative from the victim also states that Jiles began yelling that someone was chasing him and he needed to call the police.
The victim then told police that Jiles tried to use his cellphone, but it appeared that he didn't know the number for 911 and began to dial an unknown number. After that, he began to yell at Jiles to get out of his house. But, Jiles ran further into the living room area, where the man's girlfriend was.
He yelled for his girlfriend to go to their bedroom and call the police. That's when Jiles reportedly ran after her. The man then attempted a chokehold on Jiles, but he was able to keep running while the victim held him.
At some point during the struggle, Jiles dropped his phone and tried to jump across their bed to escape. At that time, the girlfriend grabbed a knife and a pair of scissors and threatened to stab Jiles. Jiles then jumped headfirst through the bedroom window and fled through their backyard headed westbound.
While speaking with the victims, deputies with the Volusia County Sheriff's Office and officers with the DeLand Police Department advised that they had Jiles in custody at a residence off of South Clara Avenue.
Deputies report that Jiles had severe injuries to the neck and was bleeding profusely. He was airlifted to Central Florida Regional Hospital in Sanford for treatment.
At this time, no report is available for Jiles' current condition. It's also not known how DeLand police plan to charge Jiles.
The post Man Jumps Through Two Windows During Home Invasion appeared first on NewsDaytonaBeach.
Source:: News Daytona Beach