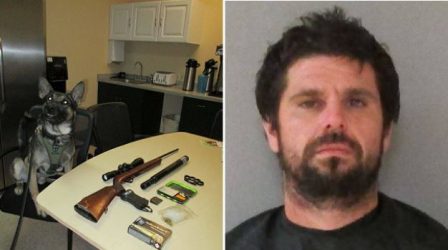 Bunnell, FL – Flagler County Sheriff's deputies say that 33-year-old Christopher Raymond, a known sex offender and convicted felon, is facing a number of charges after a routine traffic stop yesterday afternoon in Bunnell.
Deputies say Raymond was traveling northbound in a truck towing a trailer on County Road 15 when a deputy saw that the passenger side brake light on the trailer was not working. The deputy pulled Raymond over and call for a K-9 officer. An exterior sniff was conducted and the dog alerted to the odor of narcotics.
Because the K-9 officer alerted, deputies conducted a probable cause search of the vehicle. Raymond was placed in handcuffs when a single magazine was found containing four live rounds of .22 caliber ammunition in the front center console. A box of 15 live rounds of ammunition was found on the floorboard. Six live rounds of .22 caliber ammunition were scattered through the truck and a functional digital scale with a crystal-like residue was also found. A field test of the residue tested positive for methamphetamines.
Deputies also found a functional stun gun and a set of brass knuckles in the glove box. A bolt-action .22 caliber rifle with a Nikon scope was found on the floor in the rear passenger area along with a suppressor-type device that fits over its barrel. A wallet with credit cards in Raymond's name was found. Inside the slots, deputies found a piece of cellophane wrapper containing more meth.
While searching Raymond's vehicle, a criminal records check discovered that he has multiple felony convictions which prevent him from possessing a firearm or ammunition. Deputies then turned their search to Raymond's person where they found a ziplock baggie containing a number of unused empty small ziplock type baggies and eight live rounds of .22 caliber ammunition.
Deputies arrested Raymond and he agreed to speak to them without an attorney. He stated that the rifle was his grandfather's and accused someone named "Archie" "planted" the rifle to get him in trouble. When asked about "Archie," Raymond said he had not seen him in two or three months. He changed his story to not knowing how the rifle got in the vehicle.
At the time of his arrest, Raymond was out on a felony bond from Flagler county for failing to register as a sex offender. His latest charges ar possession of a firearm by a convicted felon, possession of ammunition by a convicted felon, possession of an electric weapon by a convicted felon, possession of methamphetamine and possession of drug paraphernalia. Raymond remains in the Flagler County Jail on no bond due to his violation of probation.
The post FCSO Finds Multiple Guns, Drugs In Registered Sex Offender's Vehicle appeared first on NewsDaytonaBeach.
Source:: News Daytona Beach